Apple Knows You're Sick of Your Phone
Can wearable technology solve a problem technology created?
Apple just had the best quarter yet — not just for Apple, but for any company ever. Sales of the iPhone 6 topped all expectations. A huge chunk of the world is walking around with a smartphone at the ready. 
And, as the company knows, a lot of those people are somewhat ambivalent about being that connected all the time. As David Pierce at Wired magazine writes:
"It came down to this: Your phone is ruining your life. Like the rest of us, [Senior Vice President of Design Jonathan] Ive, [Vice President of Technology Kevin] Lynch, [Creative Director Alan] Dye, and everyone at Apple are subject to the tyranny of the buzz—the constant checking, the long list of nagging notifications."
The world's biggest smartphone makers were fed up with their own smartphones. Kind of seems like they need a little Bored and Brilliant, right?
'We're so connected, kind of ever-presently, with technology now," Lynch says. 'People are carrying their phones with them and looking at the screen so much." They've glared down their noses at those who bury themselves in their phones at the dinner table and then absentmindedly thrust hands into their own pockets at every ding or buzz."
So the story goes, they designed a device to help make that dinging and buzzing less intrusive: A watch that, counter-intuitive as it may seem, is meant to help wearers check their phones less frequently. This Watch.
On our show this week, we talk with the New York Times' Farhad Manjoo — a self-described addict —  about his first few weeks with the Apple Watch, and whether more technology can solve dilemmas created by the devices we already have.
"In a weird way, having an 'everything's OK!' alarm on your wrist... it's comforting," Manjoo says. 
For the most part, he's sold. But will wearable tech solve the underlying issues of technology and distraction? Perhaps not.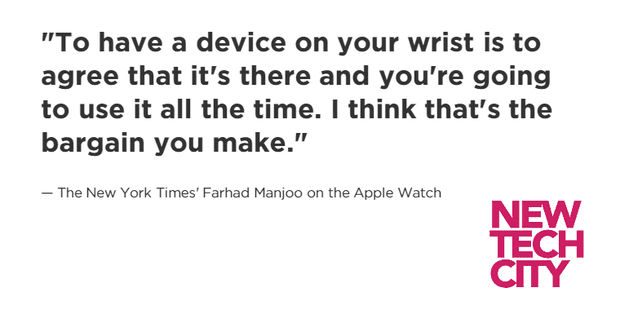 Listen to this week's New Tech City for more. (New Tech City)
Our listeners are also skeptical. Seventy-seven percent of you told us you do not believe that the Apple Watch could make technology less intrusive in our daily lives.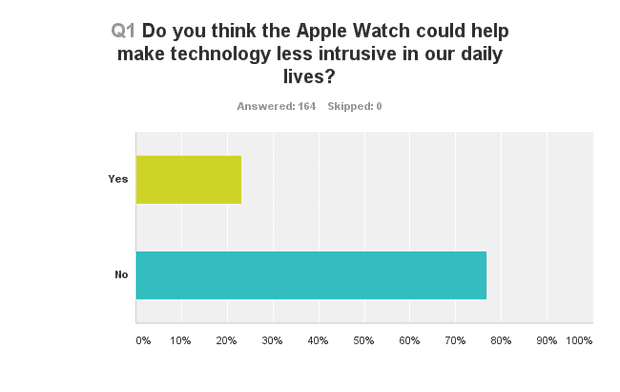 Words that came up frequently in your responses included "notifications," "interruptions," "convenience," "addiction," "escape," "Tweets," and "wrist." (New Tech City/Survey Monkey)
Of course, we'll be here watching (Watch-ing?).
Subscribe to New Tech City on iTunes, or on Stitcher, TuneIn, I Heart Radio, or anywhere else using our RSS feed.