Here's What Watson Actually Does (And: Cooked Avocado?)
Special thanks this week to The Sporkful's Dan Pashman and Anne Noyes Saini. Check out their version of events here.
This is a show where we look at how technology is changing our lives, right? Well, on this week's episode: please, technology... feed us.
IBM's Watson computing system beat two human Jeopardy champions in 2011, introducing the concept of "cognitive computing" to the game show watching masses. Since then, Watson has grown thousands of times smarter, and much, much smaller. IBM has also grown increasingly ambitious (see: some big news in the New York Times) — and the company is now on a PR mission to make this giant computer brain palatable to you and me. Literally.
So-called "Chef Watson" now lives as a cookbook and a cooking app meant to get humans thinking creatively about cooking. Developers built a system fluent in food chemistry, "hedonic psychophysics" (or "what we think tastes good"), and international cooking styles, then uploaded 9,000 recipes from the archives of Bon Appetit. They taught Watson to incorporate human feedback into its process, and worked with chefs from the International Culinary Institute to turn it into a viable product with a pretty strange set of recipes to its name. 
Basically, Watson takes everything scientists know about flavor and taste, and turns that knowledge into a recipe generator beyond the scope of human creativity. It's built to consider the maximum number of possibilities available at a given time — and on this week's show, Manoush and the Sporkful's Dan Pashman test it out in her kitchen.
Even if you're the type who prefers to order in (like, er, someone we know), Watson's kitchen adventures make for a pretty good illustration of what can happen when we let a giant computer brain think for us. Listen to the results in the podcast above. And if you're as intrigued by the concept of cooked avocado as they were, well, here's Watson's advice:
Chef Watson's Spicy Avocado Brussels Sprouts
Also Called: "Irish Jalapeno Pepper Ginger Avocado Banana Sauté, Minus the Banana"
Adapted by Manoush Zomorodi and Dan Pashman
Ingredients:
1 cup lima beans
3 cups Brussels sprouts, cut in half
Jalapeno, chopped (to taste)
1 avocado, quartered
1 tablespoon candied ginger
2 cloves garlic, chopped
1 tablespoon salt, plus more to taste
Crushed red pepper (to taste)
Cheese mix (to taste)
Directions:
Heat oil in a large skillet over medium heat. Add Brussels sprouts and avocado and season with salt. Cook for 7-8 minutes, stirring occasionally.
Add ginger, jalapeno pepper, and garlic. Cook until brown, stirring occasionally.
Stir in lima beans and red pepper.
Remove Brussels sprouts from the pan.
Sprinkle shredded cheese on top.

Prepare ingredients ahead of time. (Dan Pashman/The Sporkful)

Cook avocadoes into avocado mush. (Dan Pashman/The Sporkful)   

Avocado mush tastes a lot better than it sounds. (Dan Pashman/The Sporkful)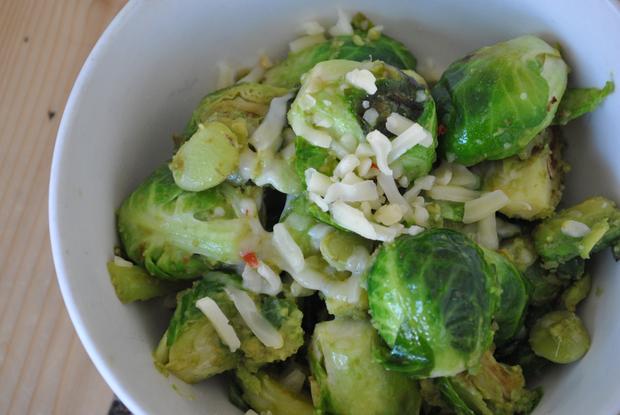 It won't look mushy on the finished product. (Dan Pashman/The Sporkful)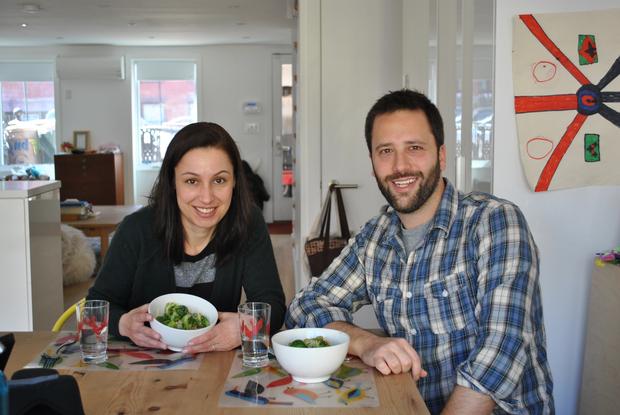 This didn't last long. (Anne Noyes Saini/The Sporkful)
Subscribe to New Tech City on iTunes, or on Stitcher, TuneIn, I Heart Radio, or anywhere else using our RSS feed.