Infomagical Challenge 2: Magical Phone
This is Challenge Two of Note to Self's Infomagical project. To learn more, sign up, or catch up on Challenge One, visit wnyc.org/infomagical. If you want to hear how it's going for the tens of thousands of people participating, our hashtag is #infomagical. No, the irony does not escape us. 
Apple has said that the average iPhone user has somewhere around 80 apps per device. Today, we are going to arrange them into a joyful, tidy, information overload crushing bulldozer. 
Your instructions: Today, you will rearrange the apps on your phone. You do not necessarily need to delete anything. You just need to weigh the value of each one, delete the ones that you a) do not use or b) do not bring you joy. Pull all of your remaining apps into folders – ideally, just one folder. When you've finished, set your phone's background wallpaper to an image that reminds you of your Infomagical week goal.
Pick something meaningful to you. Or, allow us to suggest one of these (click to download):
For anyone feeling even more ambitious today, tackle your desktop browser too. Or de-clutter your photos. Or, you know, your actual house. 
If this "brings you joy" language sounds suspiciously like "The Life Changing Magic of Tidying Up" to you... well, that's because author and organizational guru Marie Kondo herself is on this episode issuing your challenge instructions. She's joined by Wall Street Journal columnist Christopher Mims, whose article "The Life Changing Magic of Tidying Up – Digitally" inspired this exercise. 
"By putting all of [your] apps into folders, you can search for them by name. What happens is your device becomes task-oriented, instead of the place [where] you go to be like, 'OK, what do I need to do next?'"
Here's what his phone looks like: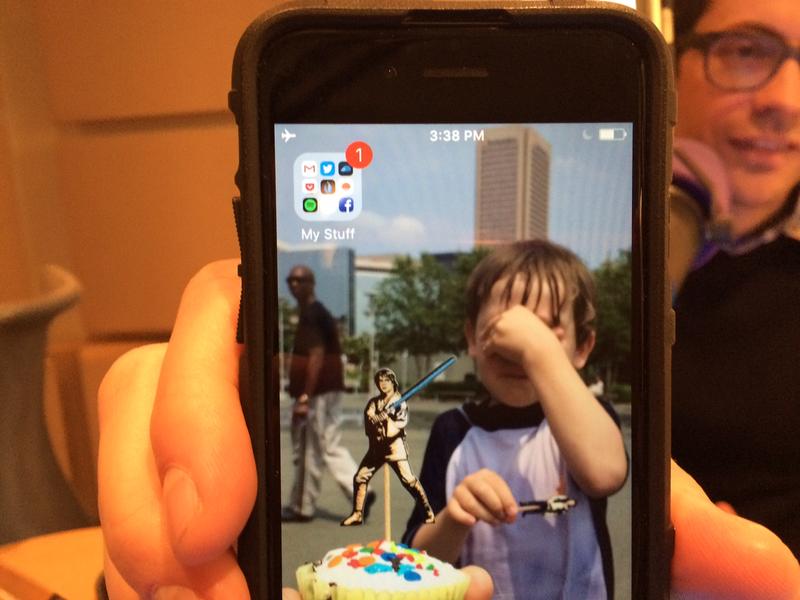 Christopher Mims' Kondo'd phone. (Manoush Zomorodi/Note to Self)
And here's how you can do it to yours (we're modeling on an iPhone but this should work on almost any smartphone):
1) Hold down one of your apps until they all start to jiggle. If the app doesn't bring you joy (however you define it), delete it. If it does, choose one and drag it over another app to create a folder. 
2)  Do this with all of the apps on your phone. Put them all in folders. Ideally, put them all in one folder.
3) Turn off notification badges – the little red dots with numbers inside of them. Go to "Settings" ---> "Notifications." and flip "Allow notifications" to the off position.
4) To find your apps, open the spotlight search feature (touch and swipe down anywhere in the center of your phone or use your OK Google search field). Every time you want to use an app, search for it.
We'd love to see yours when it's done. Tweet or Instagram with the hashtag #Infomagical or post to our Facebook page here.
The whole Note to Self team wishes you a magical day.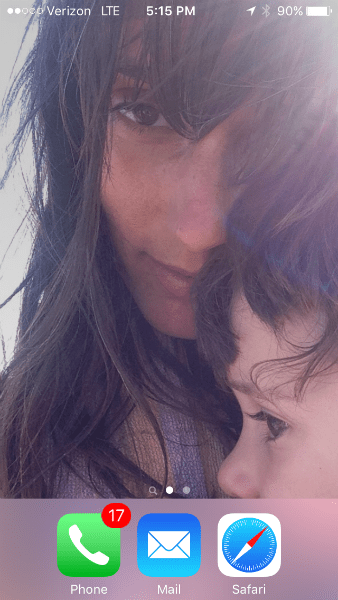 Jen thinks this challenge is the greatest thing to ever happen to her phone. (Jen Poyant/Note to Self)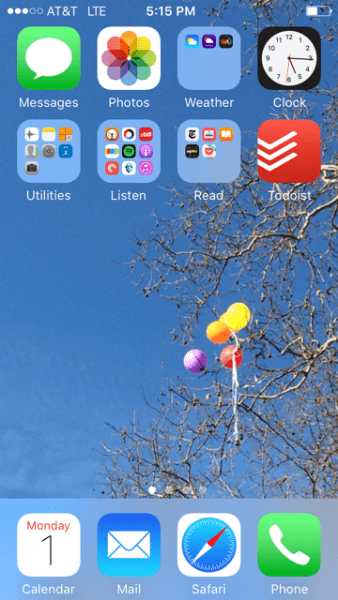 Manoush – a folder person – decided this was far enough, thank you very much. (Manoush Zomorodi/Note to Self)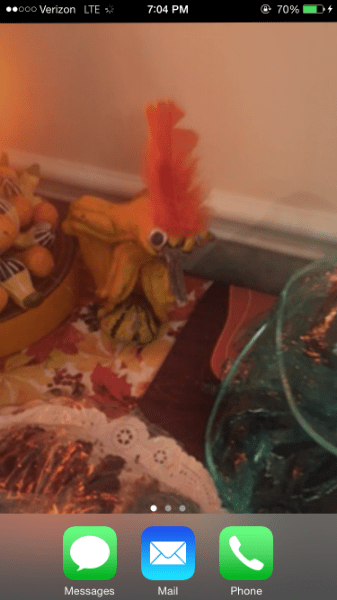 Ariana doesn't really know how to explain this bird gourd to anyone outside of her family, but she hopes it brings you joy. (Ariana Tobin/Note to Self)
For more Note to Self, subscribe to Note to Self on iTunes, Stitcher, TuneIn, I Heart Radio,Overcast, Pocket Casts, or anywhere else using our RSS feed.