Infomagical Challenge 4: Magical Connection
This is Challenge Four of Note to Self's Infomagical project. To learn more and sign up, visit wnyc.org/infomagical. If you want to hear how it's going for the thousands of other people participating, our hashtag is #infomagical. Yes, we do see the irony. 
Here's a link to our custom emoji.
Longtime listeners know Sherry Turkle – the social psychologist who studies what technology does to our relationships. If you heard our interview from a few months back, you'll also be familiar with the seven minute conversation theory she discovered in the course of her most recent research. It goes like this: in a real, verbal, human conversation, it takes at least seven minutes to see whether or not a conversation will be interesting or not. 
Today, we're going to test this theory.
Your instructions: Do something with all that wonderful goal-oriented information you've been consuming. Discuss something you've heard/read/watched with someone by phone or in person for at least seven minutes.  
Need some more ideas to start your conversation? We've asked the team behind the scenes here – a diverse group of artists, developers, editors, audio wizards, and more – to put together a collection of prompts they think can sustain seven minutes.
We've included their Twitter handles in case you'd like to report back!
Fix Something
"What are three products that you use? If you had to add one feature to them, what would it be and why?" 

– Marine Boudeau, Director of Design, @marineboudeau
Fix Something Edible
"Have you ever made something (or wanted to) you first tried at a restaurant? I just spent three, count 'em, three! days recreating chef David Chang's kimchi stew. It was a really fun experience that took a lot of focus and creativity. (I couldn't find chicken backs so I had to get creative!) Many of my capable friends have recreated cocktails from favorite bars, and I've had a few fabulous versions of the Neiman Marcus cookies from talented home bakers."

–   Mandy Naglich, Manager of Marketing and Audience Development, @MandyKN
Elephant Tears
"We read novels, watch movies and TV, gossip with friends, and follow politics all with the help of an assumed understanding of other people's inner lives. Do you ever think about the inner lives of animals? What is their inner monologue? This is a clip from a longer documentary. You can hear Solomon articulate his feelings about Shirley. What might the animals be thinking/feeling/experiencing?"

–   Amy Pearl, Senior Producer, @sugarpond
The Demands of On Demand  
"What effect will on-demand content (Netflix, podcasts, etc.) have on the future of traditional broadcast media?" 

–   Joe Plourde, Sound Designer
A Conversation About Conversation
"Say someone you know travels somewhere interesting. What's a better question to ask than 'How was it?'" 

–   John Asante, Associate Producer, WNYC Newsroom, @jkbasante
When Was the Last Time You Discussed a Poem?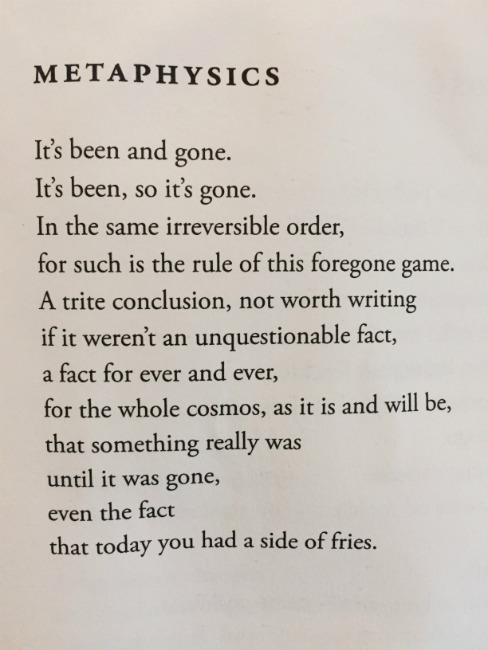 A poem from the collection "Here". (
Wisława Anna Szymborska, Translated by Clare Cavanagh & Stanislaw Baranczak
)
–  Jen Poyant, Executive Producer of Note to Self, @jpoyant
A Short Story
"Short Stories: Are they as satisfying to read as novels are?" 

–  Paula Szuchman, Vice President of On Demand Content, @Paula Szuchman
Salute the Superbowl Queen
"Ahead of Coldplay's Superbowl half-time show this Sunday, reflect on the best: Beyoncé's 2013 performance is 14 minutes long, so exactly double the length of a seven minute conversation. Beyond the clear value of talking Beyoncé, this feels like a sign." 

– David Cotrone, Publicist, @DavidCotrone
Be Honest
"What was the last article you read to completion and thought about after the fact? Explain it to each other, and discuss!"

– Miranda Katz, former Note to Self intern-turned-Gothamist-writer-extraordinaire, @MirandaKatz
Be Critical
"Star Wars Episode VII: Plot too much like the original, or did it need to be nostalgic? And who is Rey's father??? Oh, and are you on team R2D2 or BB8 on the cuteness factor?"

Additional reading: "The Nostalgia Debate Around The Force Awakens"

– Valentina Powers, Director of Digital Operations, @valentinapowers
Yes/No/Why
"Remember Lisa Frank?"

A recent post to the Lisa Frank Facebook page. (Lisa Frank)  – inspired by Sahar Baharloo, graphic designer, @saharloo
Once you've had your conversation, we would love to know what you talked about. Tell us how it went on Facebook or Twitter?