Judging Your Originality in a Cut and Paste World
Welcome to the only site on the whole World Wide Web with the words: "They were friends forever and lived happily ever after." At least, the only one as far as a giant database of student papers, online texts, and a Google search can tell. 
Full credit for originality goes to author Note to Self Producer Alex Goldmark, who spent the past few weeks on a quest to outsmart anti-plagiarism software Turnitin. Turnitin and programs like it are used in a third of high schools and half of colleges nationwide. A student submits their paper through the software, and then it's compared against an ever-growing database of writing (400 million submitted essays to date!), and evaluated with an "originality report." Teachers can see which sections set off warning bells, and a flashing red light goes off if big ideas clearly came from someone else.
It's a pretty air-tight defense against copying and pasting culture, but young adults and their grade-wielding teachers have also learned a lesson of another sort in the process: Phrasing an idea in a completely new way? It's pretty rare, especially when the assignments haven't changed. Basically, plagiarism detection software confirms that sneaking suspicion in the back of your favorite English lit student's mind: You're working through ideas that have been thoroughly worked through, many times before. It has become just about impossible to have a truly new idea. 
So, on this week's show, we'll admit, we're not the first to ask it: How important is originality, anyway? 
In this episode: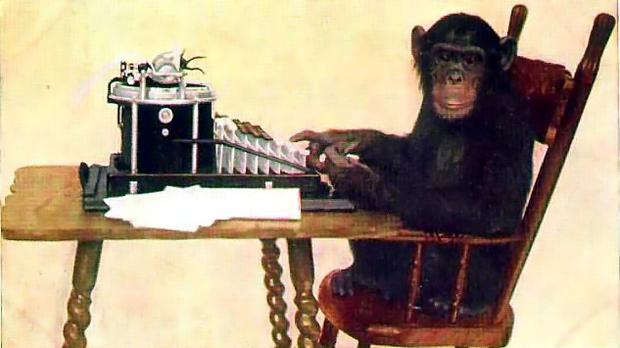 There's a line of thought called "infinite monkey theorem," which says "Given an infinite length of time, a chimp punching at random on a typewriter would almost surely type out all of Shakespeare." (
Wikimedia Commons
)
*An earlier version of this story incorrectly listed Jason Chu's first name. The text has been corrected. 
Subscribe to Note to Self on iTunes, Stitcher, TuneIn, I Heart Radio, or anywhere else using our RSS feed. And sign up for our delightful newsletter here.