QofN: How Do I Find Quiet Space Online?
This week, we're debuting a new segment called Question of Note. Every other week, we'll take a listener's question -- your question! -- and find just the right the person to answer it. See them all here as we go along.
Got a Question of Note you'd like answered? Email notetoself@wnyc.org with a voice memo. Here's how. 
"On a recent weekend, I took a complete digital sabbatical, as in I locked my iPhone, iPad and MacBook in a drawer and completely disconnected. It was glorious.  I'm constantly torn between the speed and efficiency of digital tools and the quiet and relaxation of analog ones. So as a quiet person, how do you find quiet space to work and think in the digital era?"

— James Bedell, New York
James isn't the only one asking this question. We get dozens of emails from people who feel drained by constant pressure to socialize online, and estimates say one half to one third of the population leans toward introverted. So, we took it to introvert advocate extraordinaire Susan Cain, author of the book "Quiet: The Power of Introverts in a World that Can't Stop Talking" and founder of Quiet Revolution.
"We live in a society that is telling everyone to be an extrovert," Cain says on this week's episode. "What that leads to is a colossal waste of energy, and talent, and ultimately, happiness."
The digital version of our society is no exception. Listen above for Cain's advice on recharging your batteries, proverbial and otherwise.
Here are three of her tips to feed your inner introvert:
1. Pick a number. If interacting with people on Facebook is important to you, do it. If networking matters for your job, do it. But put a cap on the amount of time you're going to spend on that network and stick to it. 
2. No FOMO. There is too much information out there to process it all. This is a fact. So when you do set aside time for yourself, take it without guilt. In Cain's words: "It's basically setting boundaries and letting go of that fear of missing out on that stuff you're not going to do."
3. Explain to the extroverts among us. Sometimes, setting visible hard boundaries can help, even on a smaller scale than James' full-weekend detox. Put an appointment on your Outlook calendar for time to think. Wear headphones at your desk so coworkers don't interrupt you (<--old radio trick). Go on a Fauxcation for a few hours.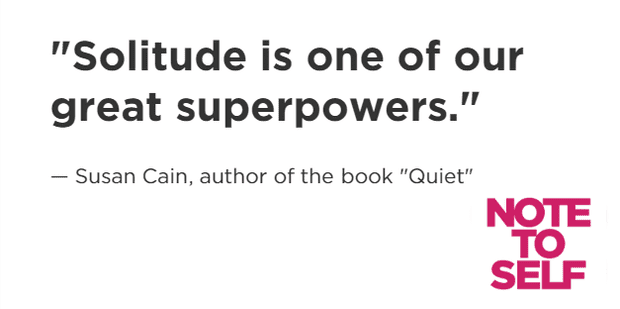 And you have to fight for it. (Note to Self)
What else would you tell James? How do you find quiet space in the world? Post on our Facebook or send us a tweet!
And, as always, subscribe to Note to Self on iTunes, Stitcher, TuneIn, I Heart Radio, or anywhere else using our RSS feed.