Stingrays: The Conspiracy Theorist Who Was Right All Along
Update: It's live! Listen here or absolutely anywhere you get your podcasts (iTunes, Stitcher, TuneIn, I Heart Radio,RSS feed). Then, head over to Radiolab for a related and also eye-opening episode with Manoush and Alex. THEN, send us (notetoself@wnyc.org) a voice memo with your thoughts about surveillance, safety, and the vulnerability at the heart of these questions.
At this point, most Americans have acknowledged — and many have de facto accepted — that the government can access our personal data. And sometimes it takes a personal case to understand just how intimate that snooping can get. 
What we haven't known — and couldn't quite tell from the 2013 Snowden leak — are the technological details of that surveillance. Nor have we understand how pervasive that technology had become, at even the most local of levels.
Today, we understand quite a bit more thanks to one man in particular. His name is Daniel Rigmaiden, and while he's not exactly the knight-in-shining-armor type (he's a convicted felon who spent years building an almost-air-tight tax fraud scheme), he is the one who figured out how the government tracks us using our cell phones, despite their best efforts to keep it hidden: the Stingray.
This week, we'll tell his story on our show. It's the first full telling since the drama went down.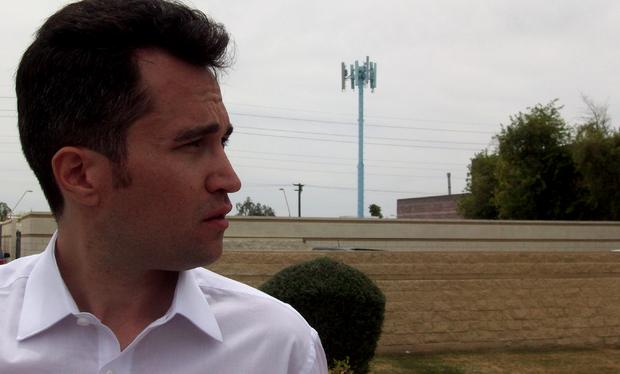 Daniel Rigmaiden served more than five years in jail for tax fraud. He spent of that time figuring how, exactly, the government figured out it was him. (Courtesy of Daniel Rigmaiden)
On a partner episode with Radiolab, we're telling another, related story from a very different angle: the sky.
We think these podcasts will change the way you look at your phone, whether you're an incredibly savvy tax fraudster or someone who just happens to notice when your phone mysteriously drops to the 2G network in the middle of a big city. Tell us what you think: on Facebook, on Twitter, or by email at notetoself@wnyc.org, .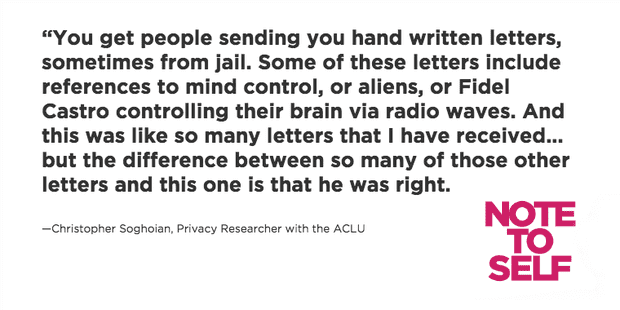 There is very little Fidel Castro in this episode. (Note to Self)
And if you burn through those, we'd also suggest listening to:
Or (and!) sign up for our newsletter here.
Special thanks this week to Nate Wessler at the ACLU, Buzz Bruner at ESD America, and ace reporter Jennifer Valentino-DeVries. Here's a link to Daniel Rigmaiden's website.