The Puppet Masters Behind Online Shopping
Here are some things that we've had to come to terms with about the Internet: People watch us when we shop online; They collect data about our likes, dislikes, habits; They using that data to manipulate... err, guide us.
This type of design research is called User Experience or UX. And to find out exactly what these designers are looking for, and why they do it, we went to the room where it happens: Manoush volunteered herself as a guinea pig in Etsy's Usability Testing Lab. But unlike most subjects in UX testing, Manoush got to step behind the curtain for a story about online seduction—how designers create an immersive experience that makes you relaxed or happy or excited, and makes you feel like spending time and money.
Here she is in the top right hand corner, getting excited about a scarf: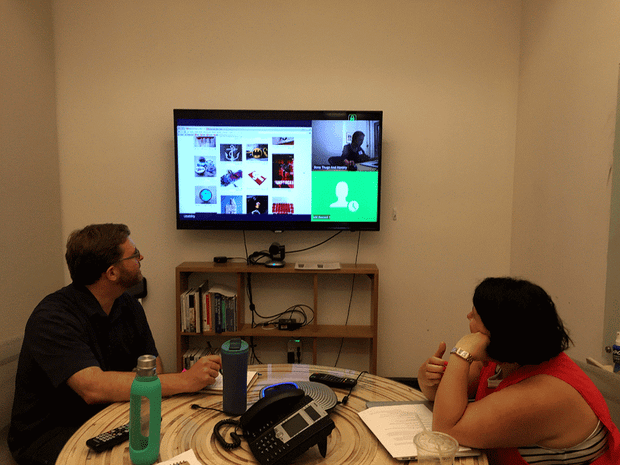 Etsy UX researchers watching Manoush shop "for a gift." (Jackie Snow)
Here is that scarf in all its winged glory: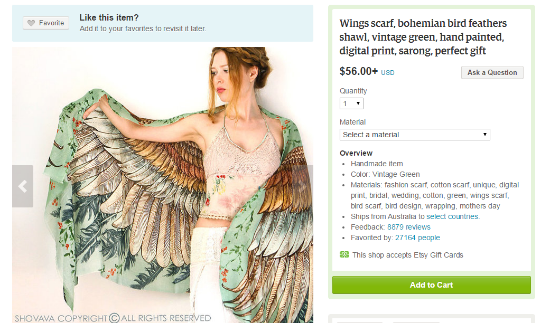 For the record, she didn't buy it. Yet. (
Shovava/Etsy.com
)
Listen to the full episode to find out what we learned about UX, and how businesses use it to shape our experiences. This episode is one of our favorites—it originally aired back in August 2015, but we liked it so much, we're sharing it again, better than ever.
In this week's episode:
Mark Hurst, Founder and CEO of UX consulting firm Creative Good
Jill Fruchter, UX Research Manager at Etsy
Alex Wright, Director of Research at Etsy
More good background reading on UX:
And one last thing! If you heard last week's episode, you know that we're compiling a list of podcasts that are hosted by women. We asked and you gave us lots and lots of great recommendations.
So now let's take things one step further. What's the best podcast episode that you've heard lately, hosted by a woman, or another underrepresented group? Send us your endorsements and we'll include some of your responses in next week's newsletter.
Subscribe to Note to Self on iTunes, Stitcher, TuneIn, I Heart Radio, or anywhere else using our RSS feed.