The Realities of Virtual Reality
We have a confession to make...
Virtual Reality? Oculus Rift? HTC Vive? Haven't really given any of them much thought. We're fascinated enough by, you know, actual reality.
But with Mark Zuckerberg recently calling VR the "next major computing and communication platform," and Virtual Reality poised to be a $40 billion industry by 2020 (Wall Street Journal paywall), we decided it's time to face the inevitable, and strap the inevitable to our face.
Who?
Max Read was our guide. He's a senior editor at New York Magazine where he recently launched their new tech/culture vertical Select All. He's been reporting on virtual reality for a while.
Where?
The Tribeca Film Festival's "Storyscapes" program. It was a big showroom filled with cutting edge technology related to storytelling. Basically, a temporary VR convention. No non-nerds allowed.
Why?
It's time for us to get a handle on this new wave of technology, and figure out how it could impact our lives. We had some reservations — like the cringe-y idea of shining a screen a few inches away from a child's eyes — but with every technological innovation come unwarranted fears. Remember how parents always told their kids not to sit right in from of the TV?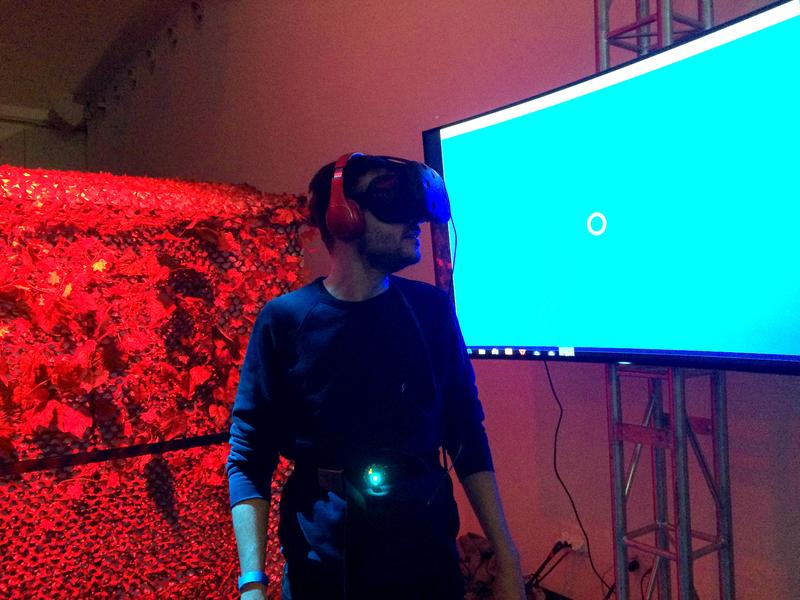 Max Read: editor or VR model?
In this episode we mention a few examples of VR technology:
Listen to the episode (player above) to hear what happened when Manoush and Max took VR off the lot for a tech drive (sorry). But minor spoiler: there's a lot of grey area. Instead of learning about the Great Wall of China, students could actually go there. But what if they become so invested in these immersive, virtual worlds, they withdraw from the real world?
We weren't really thinking about VR before... but we are now.
Subscribe to Note to Self on iTunes, Stitcher, TuneIn, I Heart Radio, Pocket Casts or anywhere else using our RSS feed.