Two Dope Queens on Feminism
We have a theory: Listening to female-hosted podcasts is a feminist act. You, right now, if you listen to this show, you are making a feminist statement.
Need a little more explanation? When Note to Self started nearly three years ago, it was a little radio segment called New Tech City, and Manoush covered technology with the professional, authoritative, every-word-exists-for-a-reason gravitas that you can still hear on public radio. Also, she was working (almost exclusively) with men.
But then, that radio segment became a podcast, and everything changed.
Not right away—if you go back and listen to old shows in our archives, it's painfully obvious that it took a while to figure out how our show should sound. But a huge part of that process—that transformation—stemmed from Manoush realizing that it's OK to sound like herself. In fact, the show is better for it.
She realized that she can be vulnerable and uncertain, and not always find answers. Because that's how the world works, and that's how people work. Over the years we've grown, and we're proud of our grown-up self. Best of all, you've come with us. You choose to download and listen to what we have to say.
But ours isn't the only show that figured out that a podcast—that this digital medium—has a special kind of power. Participating in this format provides a special kind of platform to express different ideas and perspectives, and gives many different kinds of people a literal microphone. Take, for example, all the successful podcasts that have cropped up in the last few years: Serial, Another Round, Death Sex & Money, Only Human, Invisibilia and Call Your Girlfriend. And new amazing hosts are popping up all the time.
Like Phoebe Robinson—a stand-up comedian and writer who now has something new to add to her multi-hyphenate title: podcast host. Along with her BFF, Jessica Williams, Phoebe is boldly entering the world of podcasts on WNYC's new show 2 Dope Queens. So this week seems like an opportune time to ask Phoebe about how she plans to use the medium. Where does her voice and her show fit into this digital space?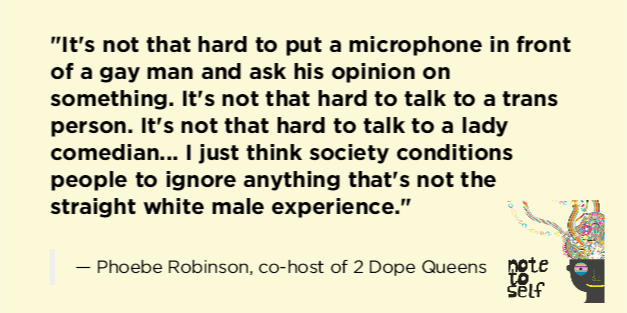 If this episode suddenly compels you to listen to more of Phoebe, you should check out 2 Dope Queens. The first few episodes are live and ready for your ears. (It's not super appropriate for the little ones, but if you don't mind raunch and profanity, listen away.)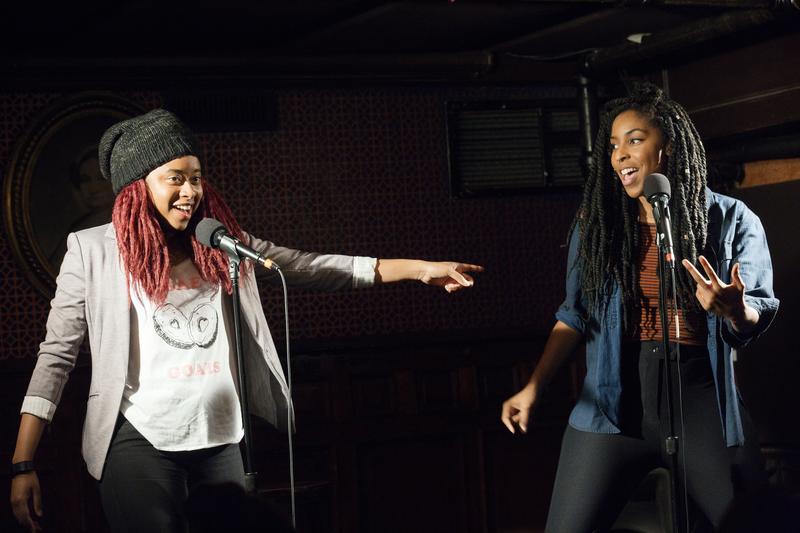 Also, remember that list of lady-helmed podcasts? Well, we want to hear what's in your podcast feed right now. What podcasts do you listen to that feature people who don't usually get a platform on media outlets? Why do you like them? Email us at notetoself@wnyc.org or send us a note on Facebook or Twitter. We've started to compile your suggestions here and we'll add some of your answers to next week's newsletter too. So keep them coming!
Subscribe to Note to Self on iTunes, Stitcher, TuneIn, I Heart Radio, Pocket Casts or anywhere else using our RSS feed.