When FOMO Meets JOMO
If you haven't heard of FOMO (Fear Of Missing Out) by now... well, no fear. There are cartoons to get you up to speed. There is a definition in the Oxford English Dictionary. There are diagnostic quizzes. There is a heavily-annotated Wikipedia entry. 
There is also a meaningful counter-term: JOMO (Joy Of Missing Out). And yes, the person behind FOMO and the person behind JOMO know each other - they are, in fact, old friends. Technologists Caterina Fake and Anil Dash – popularizers of FOMO and JOMO respectively – say they wish more had changed since they published their now-famous blog posts five years ago. On this week's episode of Note to Self, the two talk about the utility of acronyms, the importance of thoughtful software design, and the recent history of the Internet as we know it. 
"I don't think Silicon valley today, the technologists coming of age today who have always had access to the Internet and were born into it, understand that there are ethical choices to be reckoned with in the way that we build our apps and the way we build technology," Dash says.
Fake agrees. She says that sense of "oh there is something I should be paying attention to" has been built into the platforms we use – our attention is the currency by which social networks are considered successful.
"It's a lot of work to tilt the meters more towards the JOMO end of the spectrum,"  she says. "Software is good at exploiting those tendencies that we are unaware of or subject to. I think that a very conscious approach – media literacy, and ethics classes –are really where we need to be. As a culture, as a society, we know the software isn't going to go away. All of this is going to be with us and we should take it for granted that it will remain."
It's a sentiment we know a little too well. Especially the certifiable digital junkies among us.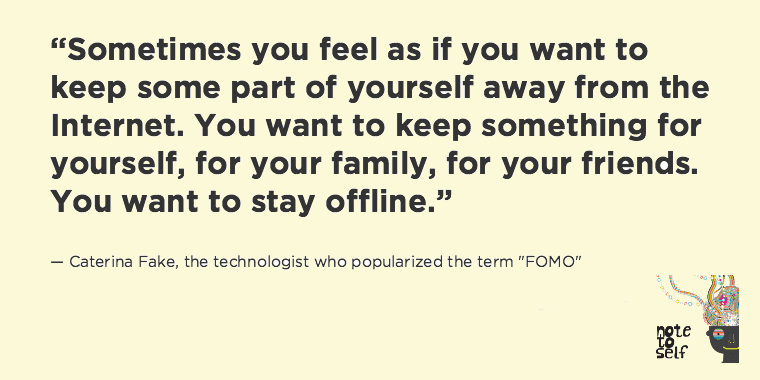 (Note To Self)
Read Caterina Fake's 2011 post about FOMO here. Read Anil Dash's 2012 post about JOMO here.
For more conversations like this one, subscribe to Note to Self on iTunes, Stitcher, TuneIn, I Heart Radio, or anywhere else using our RSS feed.