Keep the Baby, Get the Chemo
For our first episode of Only Human, our host, Mary Harris, shares her own story of when her health changed her life.
A couple of years ago, my husband and I had just decided to try for a second kid when something really unexpected happened.
Something felt off in my left breast. "Is that a lump?" my husband asked.  
"No way," I said quickly. I'd just gotten a breast exam at my OB's office, and I was 35. It seemed impossible that what we'd felt was anything to worry about.
A mammogram, an ultrasound, and a biopsy later, we learned how wrong we were. I had breast cancer.
Then, a few weeks later, as I was getting ready for a lumpectomy, we learned something else. We'd managed to get pregnant.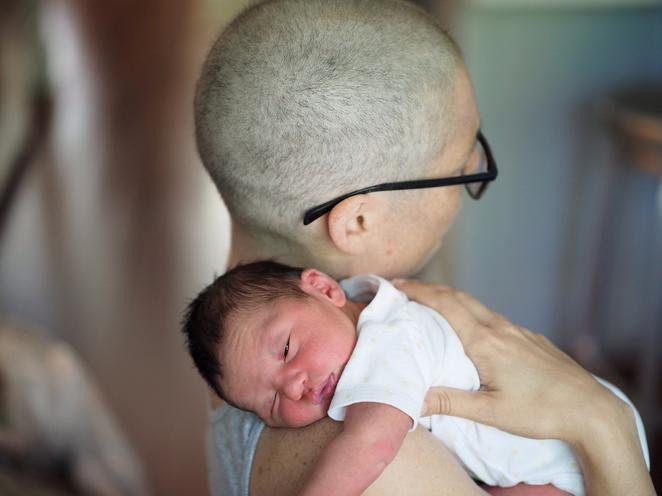 After just four hours of labor, Stella was born with a head full of black hair. "More than me, actually," observed Mary. (Howard Harris)
It was what we wanted. But the timing? Terrible.
As I went through surgery and got ready for chemo, I taped the conversations I was having — with my husband, Mark, and my five-year-old son, Leo, and with doctors I consulted.
A note about this story: getting a cancer diagnosis during pregnancy is rare, but doctors think there will be more patients like me. Women are having babies later, and cancer is getting diagnosed earlier. More and more, these trendlines intersect.
My hope is that by hearing my story, other women who find themselves in this situation will realize that something that seems impossible might not be.  
Do you have a "health confession" to share with us?  Leave a comment below, email us at health@wnyc.org, or leave us a voicemail at (803) 820-WNYC, and we might use your story on the show.
Special thanks this week to Jad Abumrad, Emily Botein, Theodora Kuslan, Delaney Simmons, Sahar Baharloo, and Lee Hill.
// <![CDATA[ function add_custom_tracker_tag(){ var axel = Math.random() + ""; var a = axel * 10000000000000; $(document.body).append('<iframe src="https://4924258.fls.doubleclick.net/activityi;src=4924258;type=wnyce0;cat=onlyh00;ord=' + a + '?" width="1" height="1" frameborder="0" style="display:none"></iframe>'); if (window.console) { console.log('i started listening to Only Human'); } return true; } if (document.querySelector) { var el = document.querySelector('#storyHeader button[data-category=Listen]') if (el) { el.addEventListener('click', add_custom_tracker_tag, false); } } // ]]>