Me and My Therapist
We have this idea of what therapy is supposed to look like. There's a couch. An objective therapist sitting across the room scribbling notes. But of course it's not that simple.
What happens when your therapist is not really a therapist? Or the therapist is the one in tears? And of course, should you or should you not, try to have sex with your therapist?
In this episode, six short stories, many from our listeners, looking at how the role of patient and therapist can get... complicated.
Our stories are courtesy of:
Thanks to Dr. Jeffrey Younggren for his thoughts and wisdom on ethics in patient/therapist relationships, and to Gary Schoener for his expertise on Dr. Renatus Hartogs.
A therapist's office is usually a private space, a place to share secrets. We don't often get the chance to see inside. So with many New York City therapists taking the month of August off, we invite you inside half a dozen or so therapeutic spaces. Make yourself comfortable, take your time and have a look around.
              - Amy Pearl, WNYC photographer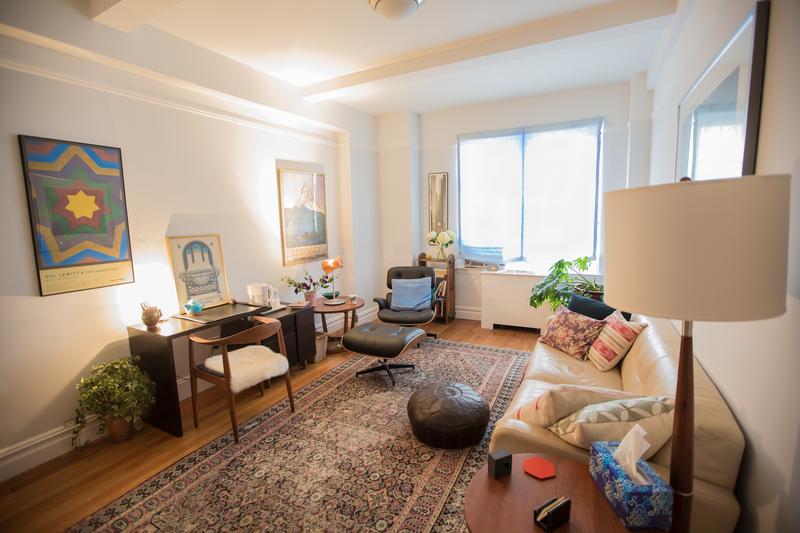 (Amy Pearl/WNYC)
Blair Casdin, psychotherapist, LCSW-R
New York, NY
Everything in a session has meaning, and the office is no different. The furniture, the lighting, the books, even the flowers. Recently, I purchased a water pitcher. One client joked that the water filter is toxic. Was he suggesting that what I have to offer him is toxic? The next week, however, he allowed himself to take a drink. For another one of my clients, the sight of the pitcher provokes a thirst she cannot quench. She fills her cup throughout the session, and admits that she never feels satiated. Most of all, I think a therapy office should be a place of comfort, opening a space that allows for open and engaged and even new thought, for both of us. Maybe what I am going for is that feeling you have when you get home after a long day and can finally relax and put your feet up.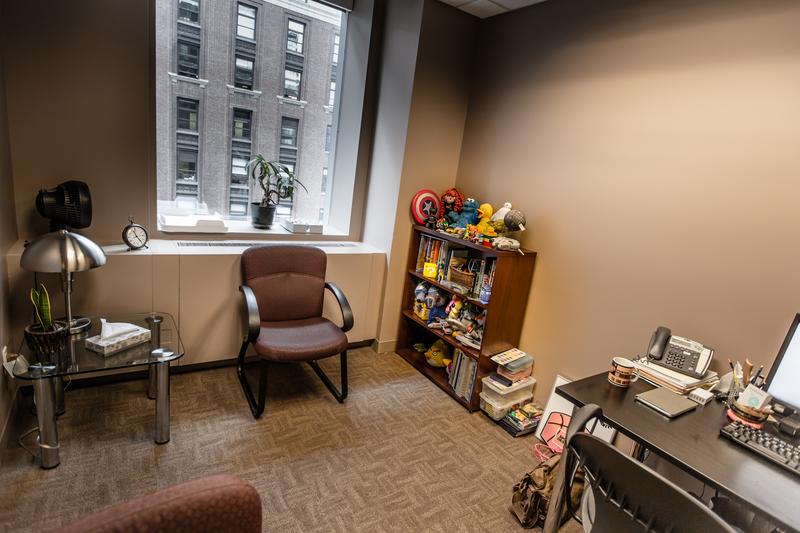 (Amy Pearl/WNYC)
Ali Mattu, clinical psychologist, Ph.D.
New York, NY
I want my patients to find something in my office that they can connect with, something that makes them feel at home. I scatter characters who have faced their fears, grown from their setbacks, and demonstrated resilience in the face of adversity. This stuff doesn't make Cognitive Behavioral Therapy any easier, but it does help the people I work with begin their own hero's journey.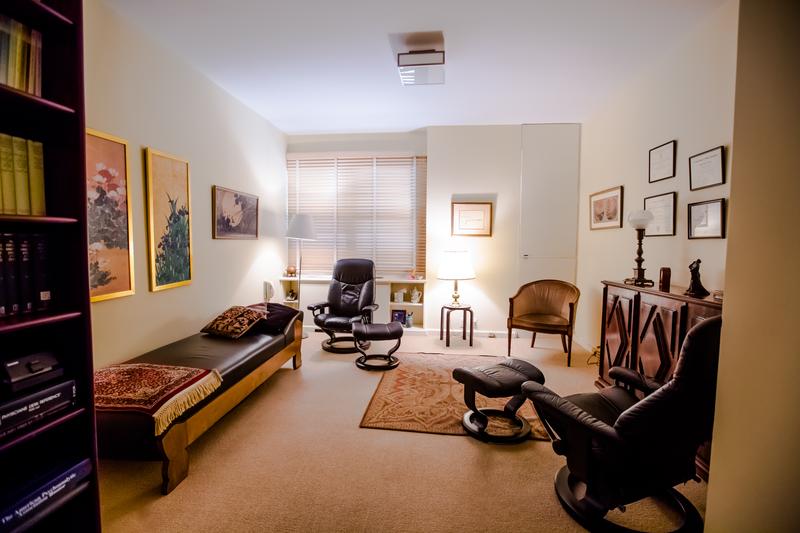 (Amy Pearl/WNYC)
Stephanie Newman, psychoanalyst and psychotherapist, Ph.D.
New York, NY
I have practiced analytic psychotherapy and psychoanalysis in NYC for approximately 20 years. I'm the author of Madmen on the Couch: Analyzing the Minds of the Men and Women of the Hit TV Show. I am sure it will not surprise you to learn that reactions to the therapist's space are as diverse and varied as the individuals who offer them. For some, the chair, consulting room, objects I have displayed have become a sort of touchstone. I will elaborate: I recently moved to a new office after working for many years at another location. Once I was situated in the new place, many people shared their reactions. They noticed that things had been moved around to reflect the new office and layout but were generally glad to have their favorites, their touchstones. One common reaction (I paraphrase): 'The space is larger but the chair is the same as always.' Plus ça change, plus c'est la même chose! Ultimately it is about the alliance, the relationship, and the bond you and the patient form, that which is shaped by the constant presence and steadfast attention over many hours and minutes and seconds, spent in the room with a caring and attentive therapist and hardworking patient.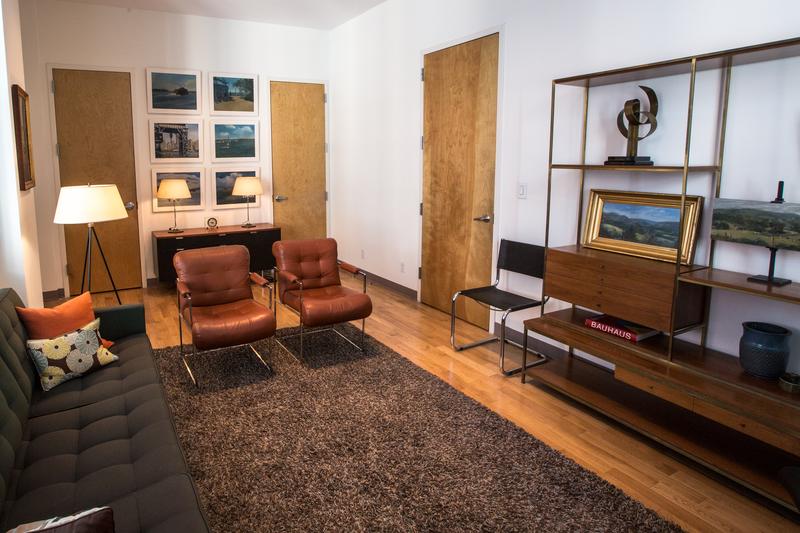 (Amy Pearl/WNYC)
Howard Danelowitz, Imago couples therapist, LCSW
New York, NY
The office was actually built for my colleague and for me and I wanted to try to have it be as open as possible. It's a little bit unexpected because when you walk into the very small waiting room you might expect something like that but there's actually a lot of light here and I feel a nice breeze. People feel comfortable with symmetry so you can keep on seeing symmetry in the room with two chairs, two doors, two rows of paintings. Every once and a while, someone will come in and say, 'I noticed your name on the paintings [in the waiting room]' and I will just ask them, 'How is that for you to know that those are my paintings?' I want to get a sense of what it means to them and if we have to talk about it further. I have felt lucky to have this as an office because I've seen many offices and a lot of them aren't special the way this is.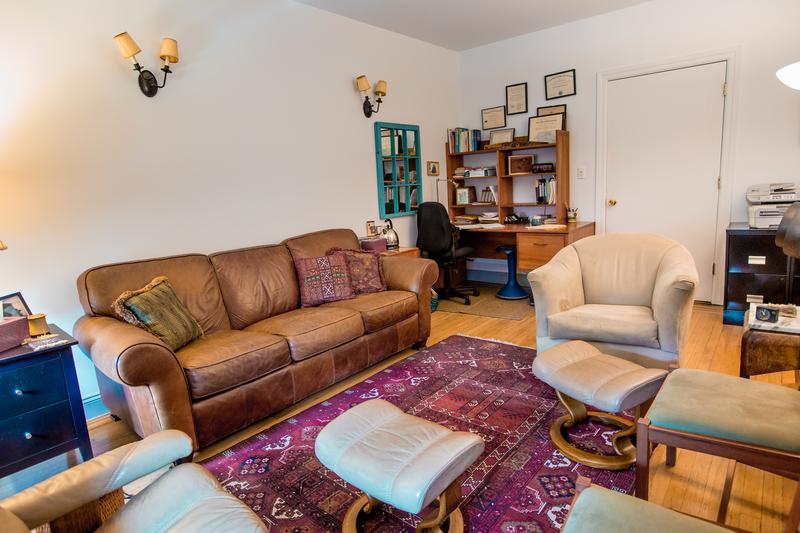 (Amy Pearl/WNYC)
Kate Dvorkin, psychologist, Psy.D.
New York, NY
When people walk in they are comfortable, that's the main thing. A lot of people find the couch very comfortable, people like at least some of the artwork. They walk in and they feel at ease because there are a lot of things to look at. The art work is varied, but it just has a nice feel; it's eclectic but comfortable — kind of like me! I created a space that I was comfortable in. A lot of people walk in here and say, 'This is a place I can work in and feel relaxed in.' Just being relaxed and comfortable is what I'm aiming for so people can focus on what they need to focus on. The space shouldn't distract you, you should be able to focus on yourself and your work.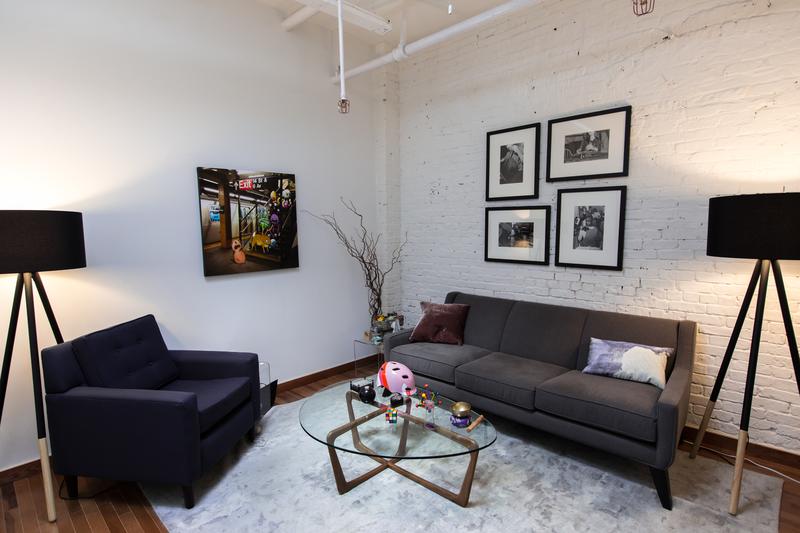 (Amy Pearl/WNYC)
Owen Muir, psychiatrist, MD
Brooklyn, NY
I practice mentalization-based treatment and Interpersonal Social Rhythms Therapy (for bipolar disorder only). No other modalities by me. Only these two evidence-based treatments. The space is hip, open, has daylight (for IPSRT that is helpful), encourages thinking about music and art (in Williamsburg my patients are artists much of the time) and is a bit more off-kilter and less straight-laced than many other treatment spaces. I also have a prominent whiteboard for learning together. The space was designed with the help of psychologist and interior designer Paula Madrid, who helped with all aspects of the setup: furniture selection, flow of the room. Dr. MacMillan made sure that even the pillows convey the right message. And there are fidget toys for patients with ADHD to fiddle with! The photography is by Angela Cappetta, a New York photographer.