When Life's a Medical Experiment
Susannah Ludwig is a self-proclaimed optimist. And it seems to serve her well: she's a successful movie producer — her film King's Point was nominated for an Oscar —and mother to an 8-year-old son.
Susannah Ludwig and her father, Stephen Ludwig. Courtesy of the Ludwigs.
But her true desire has always been something seemingly simple: to be normal.
Ludwig was born with an incomplete esophagus, a rare birth defect that has made it impossible for her to eat and digest normally for the past 44 years.
In the movies, a bunch of heroic doctors might've swept in to fix her childhood problem so she could live a normal life. And they tried: When Ludwig was a baby, a team of surgeons tried to reshape her stomach to make a sort of tube where her esophagus should be.
But she would never be able to eat any food she wanted, like her peers, or just forget about her problem. While she joined Girl Scouts and took piano lessons, her life was still, as she describes it, "a major science experiment."
Fortunately, Ludwig has had a close advisor along the way: her father. Stephen Ludwig is a pediatrician at the University of Pennsylvania, and has been very involved with Susannah's health decisions. Even though he brought a medical perspective to his daughter's issues, he says that the family tried to downplay her health problems.
"We tried to raise her with an attitude that she was normal, and that she should live a normal life and do everything that she wanted to do," he said.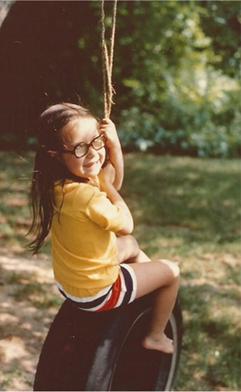 (courtesy of Susannah Ludwig)
Meanwhile, they knew that at any moment her health could change. And it did – over the next decades, she would undergo several more surgeries – days in the hospital, weeks of recovery.  During one of the worst episodes, she went months without eating to allow her esophagus to heal. Even now, she has to stick to liquid diets a few times a week.
All of this without a guiding light, or blueprint, or textbook definition that states her problem and the solution. "In my darkest hours, it's horrifying and scary and terrifying," she says.
But then the optimism kicks in — the same glass-half-full stuff that she has cultivated over years.
"I also have a lot of faith in medicine and in thinking outside the box and I know I'm a fighter. And I try to stay with that."