Memorial Day 2017: National Sacrifice and A Pledge Not to Forget
Happy Memorial Day from The Takeaway. In this special holiday episode, we're hosting conversations about the sacrifices made in war zones, and the challenges facing veterans at home. Here's what you'll find in today's show:
A former Navy pilot and POW during the Vietnam War, John McCain, a Republican senator from Arizona, believes the U.S. is a "country with a conscience." It's a conscience worth fighting for, McCain says, and he calls the U.S. the "chief architect and defender of an international order" that is based on treasured shared moral values and concerns, including human rights. Senator McCain reflects on America's own struggles with human rights this Memorial Day.  
During President Donald Trump's first months in office, the principle of civilian leadership of the U.S. military has been challenged. Andrew deGrandpré, senior editor and Pentagon bureau chief for the Military Times, argues that civilian leadership is not threatened under the Trump Administration, but says there is a cautious view that this new autonomy might encourage some impulses within the Pentagon that need to be controlled.
Last year, the Department of Veterans Affairs published a study that found that an average of 20 veterans a day die from suicide. About 65 percent of vets who take their own lives are 50 years of age or older, the report found. Bobbie O'Brien, a reporter-producer covering veterans and military affairs for WUSF public media in Florida and a correspondent for the American Home Front Project, explains how one community is combating the stigma of veteran suicide. This story was produced by the American Homefront Project, a public media collaboration that reports on American military life and veterans. Funding comes from the Corporation for Public Broadcasting and the Bob Woodruff Foundation.
The horse, once a proud symbol of military prowess, has been replaced by the helicopter in the modern era. A new monument that is set to be installed and dedicated in Arlington National Cemetery by 2018 (see image below) will honor the nearly 5,000 helicopter pilots and crew members who lost their lives during the Vietnam War. Retired Air Force Lieutenant Colonel Bob Hesselbein, the legacy committee chairman of the Vietnam Helicopter Pilots Association, and Tammy Baldwin, a Democratic senator from Wisconsin, discuss their efforts in support of the monument
Spread across 624 acres, Arlington National Cemetery is the final resting place of Presidents William Howard Taft and John F. Kennedy, Supreme Court Justice Thurgood Marshall, and countless military heroes. With more than 400,000 graves already filled, the cemetery faces some very real space challenges in the years ahead. Katharine Kelley, the superintendent of Arlington National Cemetery, explains how she is working to preserve this place of national sacrifice.
Major Tenaya Humphrey comes from a military family. She lost her father when he died in a military plane accident when she was a young girl. As a C-17 aircraft pilot, Major Humphrey has performed one of the most solemn missions in the armed services: Returning the bodies or remains of service members who have died in the line of duty. Major Humphrey, an instructor at Air Command and Staff College, reflects on the military's sacred duty of bringing fallen soldiers home.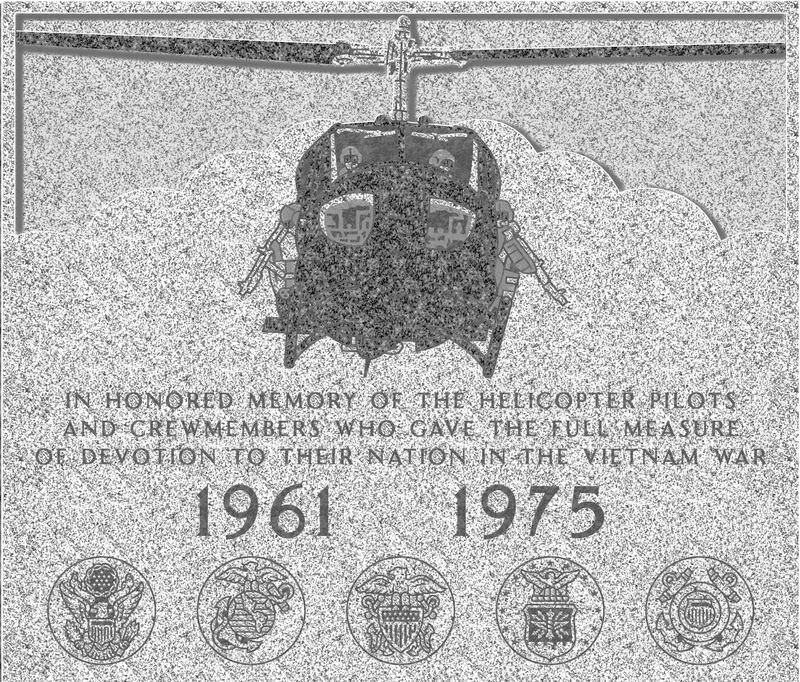 The Vietnam Helicopter Pilots Association will donate this monument to Arlington National Cemetery. (Photo Credit: Vietnam Helicopter Pilots Association)
Check out the poem written by Major Humphrey, "Do Not Call Us Fallen," below.
Do not call us fallen, we did not falter when you called.
We volunteered with all our heart, knowing the cost involved.
We entered a new world, without fear of trails ahead,
We were tested, we were tempted, but we ventured on instead.
The details of our journey we may have taken to our graves,
But know they were completed, on the last moment, of that last day.
Our death was not our testing; we aced that before our time,
It is your true test instead, as you were left behind.
This marks neither the end for us, nor the end for you,
It is but a part of our greater story, that which will continue.
Do not focus on our death, but on how we lived our lives,
When greater than us called, we made a conscious sacrifice.
We ask you now to do the same, although it pains you so,
Embrace this part of your own life, and to this bigger purpose, let us go.
You are the true hero, for you venture on alone.
We will be watching and cheering as you complete your journey, and come home.
Do not let them call us Fallen! We did not lay down and die.
When darken called we faced it, a warrior's death, but a hero's life.
The hardest part was not the battle, for a warrior's heart is true,
The hardest part was the last face we saw, and that, my dear, was you.
- Tenaya Humphrey