Forget Justin Timberlake's new hairstyle, did you see his shirt?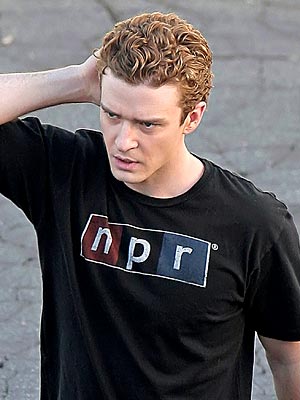 Our pals upstairs at Wait, Wait... Don't Tell Me! found this new photo of Justin Timberlake sporting an NPR t-shirt on a movie set. OMG! You can't imagine how excited this makes everyone at Navy Pier.
If anyone can save journalism, it's JT. He brought sexy back for pete's sake! And now he's a supporting our cause?!?!
Hold on though, he's on set... so there's a chance the shirt is a costume. Let's see, what movie is he filming now.'  Ah crap, it's the Facebook movie! He's probably playing some nerd who loves Fresh Air... So it's up in the air if he actually listens to NPR. I guess I know what to have Tim the Intern work on today...
Until we get JT's agent on the line, let's do a speculative poll:
[poll id="64"]