A Deaf Composer Holds Out for Science
A Deaf Composer Holds Out for Science
Note: This episode originally aired on November 3, 2015.
Jay Alan Zimmerman discovered he was losing his hearing when he was in his early 20s, trying to make it as a musician on Broadway in New York. As his hearing worsened, Jay considered other professions, but ultimately he couldn't imagine a life without music.
Recently, Jay found out about some experimental medical research that could make it possible for him to get his hearing back. In the late 1980s, researchers discovered that chickens could do something unexpected: if their hearing is damaged, they can regenerate the ability to hear again. Since then, scientists have been trying to figure out how the process works and if the same kind of regeneration might be possible in humans. Now, the very first clinical trials are underway to regenerate the damaged hair cells in people with hearing loss.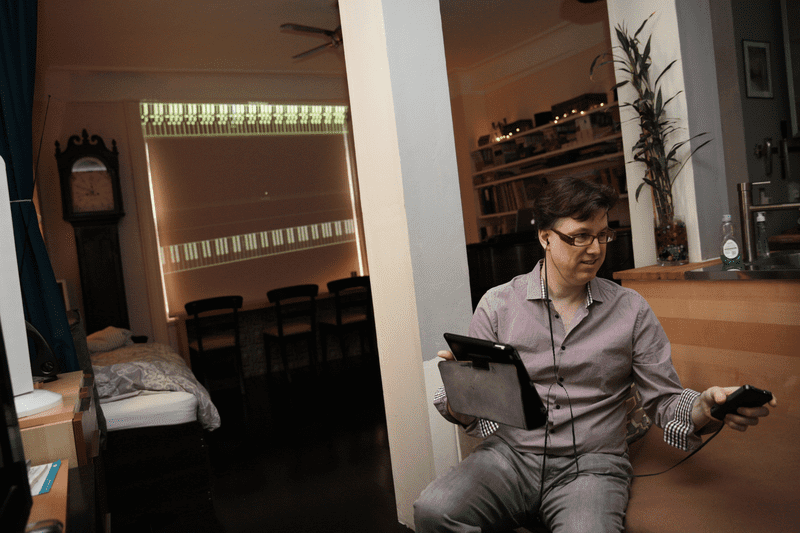 Jay Zimmerman, who has lost most of his hearing, composes music using memory, imagination, and a tool he created called a pitch visualizer. (Dave Gershgorn)
Jay has to decide if he wants to be a part of the experimental phase of this new treatment, or if the potential risks are too great. Meanwhile, he's found ways to keep composing with the little bit of hearing he has left.
If you'd like to hear an excerpt from Jay's latest show, Roboticus, you're in luck. Jay will be talking about making new musical instruments that utilize robots, and then performing some of Roboticus in the evening. Details will be posted here soon.