A WBEZ analysis of newly released census data show that Chicago's Logan Square neighborhood is now majority white.
The number of white residents in the neighborhood has been rising sharply the past two decades, surpassing the Latino population in 2017. But the latest release of demographic data, spanning a five-year period ending in 2019, from the U.S. Census Bureau reveal that more than 50% of Logan Square residents are white, compared with 39% for Latinos.
"This information isn't surprising to anyone who lives in Logan Square," said Christian Diaz, housing director for the Logan Square Neighborhood Association (LSNA). "Really, for us, we want to ask why: Why is our neighborhood trending in a way where we're heading towards becoming a segregated community?"
Diaz, who has lived in Logan Square for most of his life, said that as many lower-income, Latino residents were displaced by a more affluent, white population, the character of the neighborhood has changed drastically over the years.
"Logan Square was the kind of neighborhood where even if you didn't speak English, you could find what you needed, because there were so many mom-and-pop businesses that had bilingual staff, a lot of entrepreneurs providing services in the community," he said.
Now, Diaz added, "many building owners are wanting to cash in on gentrification. They're waiting for that big developer to come and make them an offer for their building, or they're raising their rents expecting that Panera or Target or one of these national chains will come and rent their storefront." This has resulted in many empty storefronts in the community, he said.
Data spanning the five-year period ending in 2010 show that rents topped $2,000 for 1 in every 40 households in Logan Square. Nearly a decade later, it was 1 in every six households, according to WBEZ's analysis of the 2019 data released Thursday.
Ald. Carlos Ramirez-Rosa, 35th Ward, who represents a part of Logan Square, said he has seen the effects of gentrification on neighborhood schools, as well.
"Schools have dozens of students impacted in the middle of the school year because a new landlord comes in and decides to issue everyone 30-day notices," Ramirez-Rosa said. "We've seen the impact in school enrollment as we've seen the number of families with children decrease."
Some of Logan Square's earliest settlers in the 19th century were Scandinavian and Russian immigrants, according to the Encyclopedia of Chicago. Later, during the first half of the 20th century, came the arrival of Polish and Russian immigrants. Through it all, the neighborhood remained almost entirely white.
By 1970, Logan Square was 97% white, according to Chicago community area data compiled by researcher Rob Paral. But white flight and an influx of Latino immigrants — from Puerto Rico, Cuba, South America, Central America and Mexico — rapidly changed the community. By 1980, Logan Square was nearly 52% Latino and 43% white, according to Paral's data. The white share of the neighborhood's population continued to slide, reaching a low of 26% in 2000.
However, Logan Square's development boom the past two decades has coincided with a surge in white population — which has increased more than 70% since 2000 — and a sharp decline in Latino population, which has fallen by 47% since 2000.
---
Logan Square is now majority white for the first time in 50 years.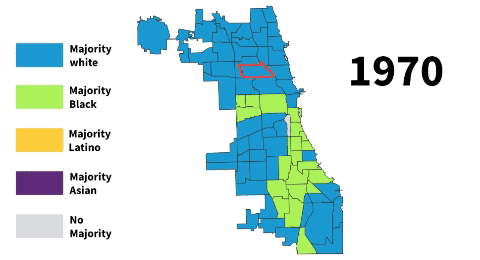 Data: U.S. Census Bureau/Visualization: Alden Loury, Mary Hall and Katherine Nagasawa.
---
Ramirez-Rosa said the uptick in white, more affluent residents in Logan Square is part of a national trend.
"There was a time when those with means moved to the suburbs," he said. "The opposite has now been the trend now for several years, where those with means are increasingly looking to move to transit-rich areas in our urban cores, and we have seen lots of gentrification and displacement all around the edges of downtown and throughout the North Side."
He pointed to mitigation efforts like the upcoming arrival of a 100% affordable housing complex near the Logan Square Blue Line station, as well as the demolition ban along The 606 trail.
Still, Ramirez-Rosa said, "we are up against major forces. We know that when there's a limited supply of housing, when those with more means decide that they want to move into an area, rich people are going to be able to displace working people."
Diaz, with LSNA, said what's happening in Logan Square today is not a new story — and history is repeating itself currently in Pilsen, a longtime Mexican immigrant community also experiencing gentrification.
"We saw it happen in Lincoln Park, we saw it happen in Wicker Park," he said. "At the root of this is a dominant narrative in Chicago, that the only way to improve a neighborhood is to make it attractive to white people, or to wealthy people."
Recently, he was walking in his neighborhood near Kosciuszko Park, which is getting a major overhaul, including a dog park.
"Who is that for? When our neighborhood schools lack basic resources and children are being left behind during this pandemic?" Diaz asked. "We don't have money for equitable learning, but we have money for a dog park in Logan Square?"
Logan Square's transition has featured the convergence of affluent white residents with working-class, Latino families. WBEZ's analysis shows that 64% of Latino households in Logan Square are family households compared with just 39% of white households there.
Since 2000, Logan Square has experienced a 39% increase in its overall median household income, from $54,649 to $76,106, according to Paral's community area data. That's the seventh-highest increase among all of Chicago's 77 community areas and the highest growth of any community area that was mostly Latino in 2000.
And Logan Square is home to the city's highest white-to-Latino household income ratio, according to WBEZ's analysis of the census data released Thursday. The census data do not include overall median household income figures for white and Latino households in Logan Square, but it does include such figures for each of the neighborhood's 27 census tracts. The average of those figures was $107,221 for white households, the analysis shows. That's more than double the $49,528 average for Latino households.
Esther Yoon-Ji Kang is a reporter for WBEZ's Race, Class and Communities desk. Follow her on Twitter @estheryjkang.
Alden Loury is senior editor of WBEZ's race, class and communities desk. Follow him @aldenloury.