Story behind picture of little kid and cop at KKK rally
By
Charlie Meyerson
Story behind picture of little kid and cop at KKK rally
By
Charlie Meyerson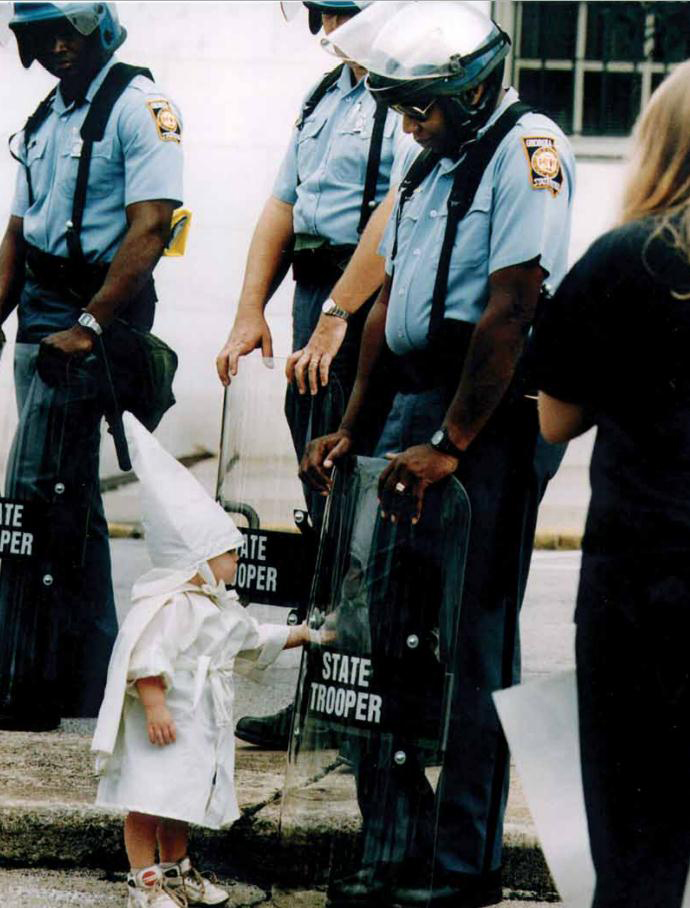 THE STORY BEHIND THIS 20-YEAR-OLD PICTURE, NOW VIRAL ON THE INTERNET. At Poynter.com, David Griner explains how a photo of a little kid and a cop at a Ku Klux Klan rally — almost rejected for publication in 1992 — gained a second life through social media.
* KKK Web site offers jewelry, ceramic statues.
HOW DO YOU LIKE YOUR COPS? A University of Illinois at Chicago survey of more than 4,000 people finds more than 80 percent somewhat or very satisfied by their encounters with police. The study's author, Prof. Dennis Rosenbaum, tells the Sun-Times image counts in the war on crime: "When the police are respectful, people are more likely to cooperate and report crime."
* Mayor Emanuel runs into rare City Council fight.
* State's top Republican under fire from own party for backing same-sex marriage.
* Have more Illinois lawmakers ever been sworn in while under indictment?
UNUSUAL WEATHER WE'RE HAVIN', AIN'T IT? Another record to add to Chicago's string this season: Longest stretch without at least an inch of snow.
* What if Lake Michigan water keeps disappearing?
* Mississippi shrinking.
* The Onion: "2012 Was Once Considered Hottest Year On Record, Man In 2024 Remembers Wistfully."
'FINALLY SOME GOOD NEWS FROM THIS GUY.' Netflix confirms its exclusive revival of "Arrested Development" launches in May with 14 new episodes.
* How Netflix and projects like this are changing TV forever. (From December.)
* Andy Ihnatko on TV makers' plight at the Consumer Electronics Show: "They want you to give them money in exchange for new televisions. They've made new televisions. Where are the people with the money?"
* Also at CES: A mind-controlled helicopter.
JEOPARDY TEST!
One more chance tonight (10 p.m. CST) in this round of online testing to become a "Jeopardy!" contestant. If you don't sign up, odds improve for those of us who did. (Note to self: Practice that "Before and After" category; how could you have blown "Baby Ruth Ginsburg" last night?) Test details on
the Jeopardy Web site
. Takes about 15 minutes.
ARE YOU READY? The Official Meyerson WBEZ blog quiz debuts Friday. Study up now.
---
Music that helped get this issue out the digital door: New Radicals playlist on Pandora.
Get the latest from WBEZ by email. Sign up now.