Blind Kids, Touchscreen Phones, and the End of Braille?
This story is part of New Tech City's series on education and technology.
Today's show has a lot to do with audio and sound, so we encourage you to listen to the full episode! Hear it in the player above and anywhere you get your podcasts (iTunes, or on Stitcher, TuneIn, I Heart Radio, or RSS feed).
The Texas School for the Blind and Visually Impaired has been stocked with all kinds of gadgets: singing calculators, talking typewriters, even video games that you navigate using only sound. Most are specialized and expensive — the school can afford them, but a lot of families can't.
There is one piece of tech, however, that almost every student has, and, according to 14-year-old student Demetria Ober, absolutely every student wants. It's a status symbol, it's a social media machine, it's... yes, you know exactly what it is: the iPhone.
On this week's New Tech City, reporter Ryan Kailath introduces us to Demetria, and poses the question gaining importance in both her life and broader society: Are iPads and iPhones rendering Braille obsolete? And if so, should advocates for the visually impaired be worried?
Demetria, who started losing her vision at an older age, has had a tough time with Braille class — it's tied with algebra for her least favorite. Fluent Braille readers usually start around the age of 3 or 4, and catching up is an involved, often somewhat tedious process. So she prefers to read by enlarging the print or turning up the contrast on a screen. She can still see a little out of the corner of her eye. For the totally blind kids, smartphones will read text out loud. No raised dots involved. 
They're reading through their ears — a skill unto itself.
Here's what it's like to read this post through Apple's VoiceOver product: How fast can you go? 

Starting slow:

A "standard" rate for beginners:

Picking up a little speed:

This voice is named "Alex." iOS can use multiple voices, languages, and accents. But once someone gets the hang of it, they can fly at rate 75....
The faster the setting, the quicker the "reader." That said, there's at least one skill set advocates worry kids will lose with this method: spelling.
"If you rely too much on technology instead of braille, then you get people who are functionally illiterate," says Chris Danielsen, spokesman for the National Federation of the Blind. "I have personally seen people with advanced degrees that are very bad at spelling, punctuation, structuring proper grammatical syntax... simply because they've never really read anything. They've never had to put their hands on words and sentences and find out how they're spelled and constructed."
Not everyone agrees. We've got all the sides — and more from the students — on our show this week (click "play "in the media player above).
And you can test the accessibility options using your own Apple products...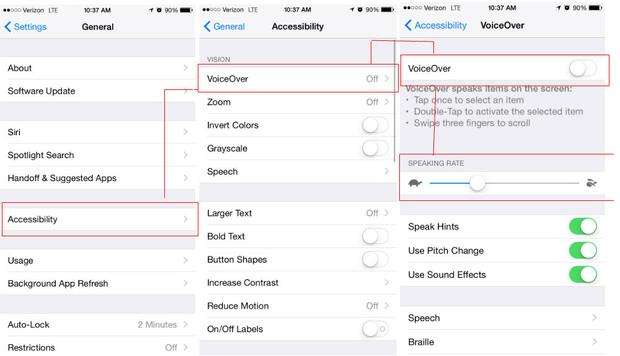 To set up VoiceOver on an iOS phone, go to "General" --> "Accessibility" --> "VoiceOver" (New Tech City)
Other apps mentioned in this episode:
Recognizes currency and speaks the denomination, to help people recognize bills. 
Reads text from a digital photograph.
Photographs objects and identifies them out loud for the user.