Come and Sit with Marina Abramović
Legendary performance artist, Marina Abramović, got more than 750,000 people to slow down and wait in line at MoMA just to sit at a table across from her. She also convinced Manoush and N2S Executive Producer Jen Poyant (and hundreds of other New Yorkers) to lock away their phones, sit in silence for 30 minutes, and then listen to Bach's Goldberg Variations.
She just published Walk Through Walls: A Memoir and she thinks that our over-caffeinated, hyper-productive society needs her now more than ever.  
With the everyday upkeep of our virtual selves on Instagram, Facebook, or Snapchat, many of us have become nearly as performative as Marina herself. And so, in response, she's changed her work to become more about us. She is focusing on ways to help us put our phones down and to restore our overtaxed systems in a digital world.
Here are just a couple of her suggestions:
Find ways to truly be alone. Marina suggests things like: going to the desert, hiking to a waterfall, (and for the brave of heart) looking inside of a volcano. Find ways to be be with nature in any way you can. 
Re-channel your energies. As an experiment, instead of checking emails or immediately texting right after you wake up, take some time (a whole bunch of time) and sit by a window. Marina says that in the beginning you'll feel restless, but push through it, you have to train your body to funnel that energy into other places.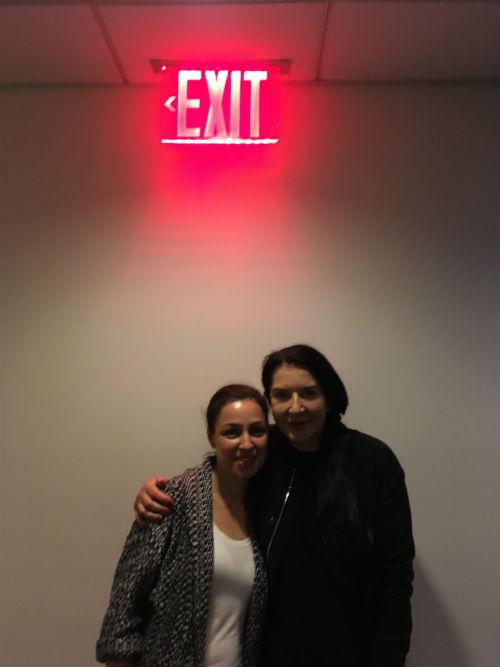 Host Manoush Zomorodi with performance artist Marina Abramović. (Jen Poyant) 
For more Note to Self, subscribe on iTunes, Stitcher, TuneIn, I Heart Radio, Overcast, Pocket Casts, or anywhere else using our RSS feed.