Eye in the Sky
There are two sides to every surveillance story. On one side, security; on the other, privacy.
Ross McNutt is an innovator in the field. During the Iraq War in 2004, McNutt and his team developed technology to use a plane and a cluster of cameras to capture an entire city, all day. So when a roadside bomb detonated, McNutt's technology could zoom in and scroll back in time, and find out how it happened. In a way, McNutt had a superpower.
So back to the debate. For people who believe that security should be our top priority, having an eye in the sky can save lives. But for those worried about privacy, without regulation, surveillance could limit our freedom. Cue the Orwellian fear, panic and "What Ifs." 
That's the conversation that took place, and is still happening over McNutt's superpower. Like a lot of technology, it might be developed for one purpose (in this case, the military), but what happens when it's used in a different context?
Like Dayton, Ohio — that's one of the many places where McNutt is trying to implement his surveillance technology to help fight crime, and save cities money. If only it could be that simple.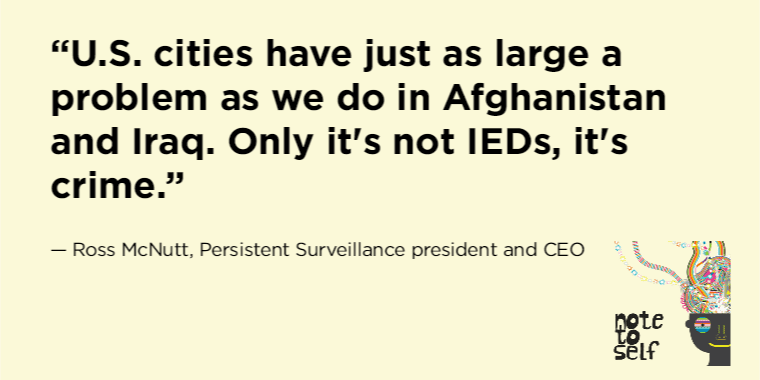 This week, we see how McNutt's technology plays out in Juarez, Mexico vs. Dayton, and look at the Great Surveillance Debate from different angles. We tap into the how and why of using technology to live better as individuals and a society, which is exactly the kind of conversation that we think is important to have. 
This episode originally aired last year as part of a partnership with Radiolab (Heard of it?). We also did our own episode about surveillance, but realized that we never actually shared this one with you. So we gave it a face lift — including an update from McNutt — and are presenting it to you in all its glory. Better than ever.
Special thanks to Alex Goldmark, former Note to Self producer (now of Planet Money) who helped report this episode. Also, thanks to Jad Abumrad, Robert Krulwich, Andy Mills and the whole team at Radiolab.
One last thing: For the past few weeks we've been compiling a list of female-hosted podcasts for you to check out and share with the Internet. [Insert whatever deity you do or don't believe in here] knows there aren't enough, but, as a show proudly hosted by a wonderful woman, we're doing our part to help spread the word. Make sure to sign up for our newsletter here to get a weekly update from us sent straight to your inbox.
Subscribe to Note to Self on iTunes, Stitcher, TuneIn, I Heart Radio, or anywhere else using our RSS feed.