Half the Teachers in America Use One App to Track Kids
This story is part of New Tech City's series on education and technology.
Do you remember how many gold stars you got in second grade? Can you recall how many times you were sent to the principal's office, how many times you handed in your homework late, how many days passed between getting called out for talking in class? 
Today, one out of every two U.S. schools has a teacher tracking that kind of data with one extremely popular app, ClassDojo, the company says. It's got points, demerits, and cute avatars at least one seven-year-old we know can't get enough of: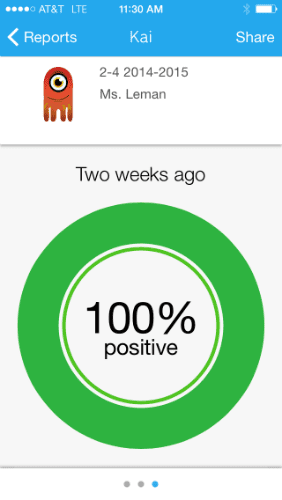 Manoush's son Kai had a good day, according to ClassDojo. (Screenshot/Manoush Zomorodi)
It's really, really popular — so popular that a late 2014 article by Natasha Singer in the New York Times took a whole lot of people aback: She reported that school districts were facing data breaches, and privacy policies were all over the place. The article specifically quoted critics of ClassDojo who had problems with the carrot-and stick approach to digital discipline and the idea of a behavior database being created without parental permission. Then, there were the unknowns: What happens when future employers find out little Johnny was flagged as a difficult kid? How might that sort of digital-paper-trail change the college application process? As a free service, what were the app developers receiving in return?
ClassDojo has since been thrust to the front of a conversation about student data and privacy stretching far beyond their little monster avatars. They've rewritten their privacy policies, started deleting data after a year passes, and even created a special "privacy center" for parents. Is it enough? And what about the thousands of other apps in our kids' classrooms, measuring and documenting everything from their heart rate during gym class to academic performance to what they choose to eat for lunch?
On this week's episode, Sam Chaudhary, co-founder of ClassDojo, tells us flatly "we are not a data company." He explains how he plans to grow a tech company without harnessing user data. We also hear from Jim Steyer, CEO of Common Sense Media, and a community of parents and teachers about the obligations — legal and otherwise — techies have to today's kids. 
Subscribe to the podcast on iTunes, or on Stitcher, TuneIn, I Heart Radio, or anywhere else using our RSS feed.