Infomagical Challenge 1: Magical Day
This is challenge one of Note to Self's Infomagical project. To learn more and sign up, visit wnyc.org/infomagical. If you want to hear how it's going for the thousands of other people participating, our hashtag is #infomagical. Yes, we do see the irony. 
Here's a link to our custom emoji.
Today we are focusing on our ability... to focus. Because we are nothing if not meta. Mind blown yet? OK, let's go: 
Your instructions: All day long, do just one thing at a time. If you catch yourself doing two things, switch your focus back to one. Don't read an article and Tweet about it – read it, then Tweet. Write an email until you've finished it and hit "send." Perhaps even take a moment to just drink your coffee. Use your Infomagical week goal to prioritize which thing to do when. 
Why is this challenge number one? Because humans are incapable of doing multiple things at the same time. Study after study has shown that "multi-tasking" is a myth. Neuroscientist Daniel Levitin explains that when we think we're multi-tasking, we're really only fooling ourselves.
"You're not actually doing four or five things at once, because the brain doesn't work that way. Instead, you're rapidly shifting from one thing to the next, depleting neural resources as you go."
Rapid switching back and forth comes at a cost: it eats away at your glucose levels. Which, in turn, might make you want candy. Or... Candy Crush.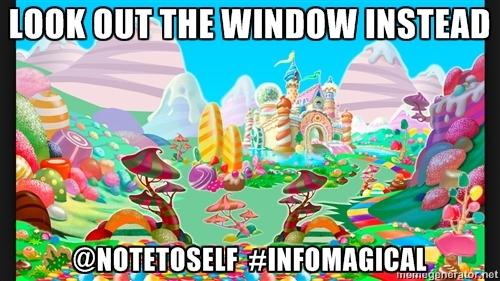 Low glucose levels = sluggishness, possible candy cravings, and more frequent self-interruptions. (Note to Self/Memeful.com)
Gloria Mark, Professor of Informatics at the University of California-Irvine, says that this rapid switching isn't a new affliction, but it is an intensifying one.
"About ten years ago, we found that people shifted their attention between online and offline activities about every three minutes on average. But now we're looking at more recent data, and we're finding that people are shifting every 45 seconds when they work online."
Her lab has found a pretty clear relationship: The more that people switch their attention, the higher their stress level. That is especially concerning, she says, because the modern workplace feeds on interruptions. She calls the group of workers most affected "information workers."
"'Information workers'... have to respond to the demands of the workplace.They might have every intention of doing monochronic work, but if their boss sends them an email or they feel social pressure to keep up with their emails, they have to keep responding to their emails and being interrupted," Mark said. "I think that if people were given the ability to signal to colleagues or just even to signal online 'Hey I'm working on this task, don't bother me, I'll let you know when I'm ready to be interrupted.'"
We can't change your boss, but we can make a suggestion. Tell your colleagues you are doing the Infomagical challenge. Post on Facebook or Slack or wherever to signal that you are trying to single-task all day. Ask people to schedule conversations with you. You can even use your custom emoji for a visual cue. 
Here's the thing, however: You can't blame your coworkers or your children or your gchat buddy for everything. Because the person who actually interrupts you the most? Yourself. Mark's lab has a term for this – the "pattern of self-interruption."
"From an observer's perspective you're watching a person [and] they're typing in a word document. And then, for no apparent reason, they suddenly stop what they're doing and they shift and look at email or check Facebook. These kinds of self-interruptions happen almost as frequently as people are interrupted from external sources," Mark said. "So we find that when external interruptions are pretty high in any particular hour, then even if the level of external interruptions wane [in the next hour], then people self-interrupt."
In other words, if you've had a hectic morning dealing with lots of email and people stopping by your desk, you are more likely to start interrupting yourself. Interruptions are self-perpetuating.
That's why the most important signals are really the personal ones – remind yourself of your goal.  If you signed up for Infomagical via text, we'll be checking in with you today. If you are doing Infomagical by email, check your inbox! You'll get another one tomorrow morning.
That's all for now. Single task, friends. Close this tab, decide what you are doing next, and THEN DO IT UNTIL IT'S DONE.
The whole Note to Self team wishes you a magical day.
For more Note to Self, subscribe to Note to Self on iTunes, Stitcher, TuneIn, I Heart Radio,Overcast, Pocket Casts, or anywhere else using our RSS feed.