Is My Phone Eavesdropping On Me?
This is the latest installment of "Question of Note," in which we take a listener's question — your question! — and find just the right the person (or people) to answer it. See them all here as we go along.
This week, we're talking with the one and only Walter Kirn. He covers privacy, tech and surveillance, and – unrelated – he wrote the book behind "Up in the Air" with George Clooney. His most recent work lives in this month's Atlantic Magazine, and it's called "If You're Not Paranoid, You're Crazy."
He's here to give his personal answer to a question you've sent en masse: Do we need to be worried about our phones tracking our every move? Because it sure seems like they are. Here's a sampling from our inbox alone:
Hey, Apple?

"This weekend I bought the Steve Jobs biography by Walter Isaacson at a yard sale for a steal at only 50 cents. I was pretty thrilled with my purchase and spent the next day at the beach diving into the first several chapters of the book. A few hours later, back at home, I was scrolling through Facebook on my iPhone when something weird happened. There on my screen was a sponsored ad in my feed for the upcoming Steve Jobs movie... WHAT?! How could this be?! ...I hadn't Googled the book or Steve Jobs (I checked my search history) and yet somehow Facebook had collected enough information about me to know to serve me up an ad at that moment. Am I just being paranoid or are they really eavesdropping on us?"– Mike Kaiser

These Lizards are Ripped
"...a couple days ago, I was sitting outside and watching three or four lizards dart around, taking in the heat. A couple of them kept doing push-ups.... I asked myself out loud, 'Why in the world are the lizards doing push-ups?' And then I realized I could just ask Google, so I started entering the question into the Google app... I got as far as 'Why do lizards' and it completed my sentence for me…with 'Why do lizards do push-ups?' ...It popped up as the 'personalized' suggestion, right at the top in a different color. Did Google hear me ask my question? Or are there really so many people in the world asking about why lizards do push-ups?" – Rachel Watson

Things Come in Cycles 
"First, I should say that I'm not a cyclist and I've never researched bicycles on the Internet.... Several months ago, I was strolling around town with a friend who is an avid cyclist and we stopped in front of a high-end bike shop (it was closed, we just looked at the window display). I noticed an odd-looking tire that had no tread at all. My friend explained that it was some sort of performance tire... In any case, when I went on the Internet the next day, the targeted advertising was for one of these tires. I hadn't looked it up anywhere, I hadn't even thought about it after we'd left the shop window." – Heather Kelley

That Was a Private Moment Between Me and My Dog
"So, I get out of the shower and I'm getting dressed and of course my dog is over there on his chaise and I'm looking at him and I'm feeling all sad that I'm about to go to work for a couple hours. I'm humming to myself a song... my poor dog is tortured by this, but I start singing,"Every time we say goodbye I cry a little, I die a little," you know... that song. I get in the car, I put on the iPhone music. I have 6157 songs. I hit shuffle randomly, and the first song to play is the song that I was just humming... I haven't heard this song in forever... So anyway, that's my question... and make sure you sing to your dog whenever you can because they love it, they absolutely love it." – Michael Grant
So... should we be paranoid? Do we know whether our gadgets are passively listening to us? No. We don't know for sure, beyond what they tell us in their privacy policies. But we do know that voice recognition is what many major companies are trying to get us to start using. Google has OK Google, Apple has Siri, and Amazon has Echo, a home appliance that listens to you all the time. We know that many third party apps use location data services, and we know that personalization – especially personalized ads – rely on tracking.  
We also know that there is a report out this week from the New America Foundation called "Ranking Digital Rights." Their team read all of the user agreements, privacy policies, and terms of service at major telecom and Internet companies, and then gave them scores on privacy and censorship. The best-scoring company was Google, with a 65 percent – a "D." Facebook scored 41 percent –an F-.
Walter Kirn's "this is a little bit too much of a coincidence" moment came in the kitchen, as he searched for a bag of walnuts. Listen to the show and read "If You're Not Paranoid, You're Crazy" for more. 
And re-listen to celebrity cryptologist Bruce Schneier.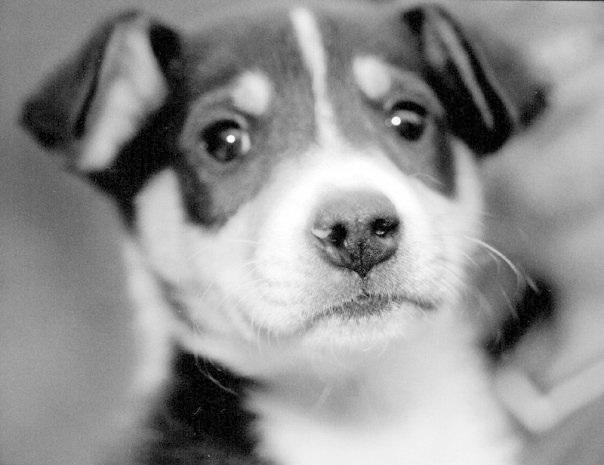 Note to Self listener Michael Grant wrote in with a strange story about a private moment talking to his dog, which may or may not have been overheard by his phone. This is that dog. (Courtesy of Michael Grant and Bodhi the dog)