Sexiness, Social Media and Teenage Girls
Girls who grow up with the Internet hear a lot of messed up cultural messages.
They're led to believe that if they post sexy pictures, and get a lot of 'likes,' that is empowerment, and that taking revealing pictures is owning their bodies and sexuality.
There are also a lot of hilarious women in popular culture — Amy Schumer, Rachel Bloom, Lena Dunham, Ilana Glazer and Abbi Jacobson to name a few — who use their comedy to highlight the contradictions inherent in navigating this media saturated world, full of images that define feminine desirability and hotness.
But which messages are getting through to adolescent girls?
It's a grab bag, according to Peggy Orenstein who noticed these, and a lot of other troubling trends when she interviewed 70 college-age girls about their personal lives. She wrote a book about it called "Girls & Sex," and talked to us this week about some of the things she learned.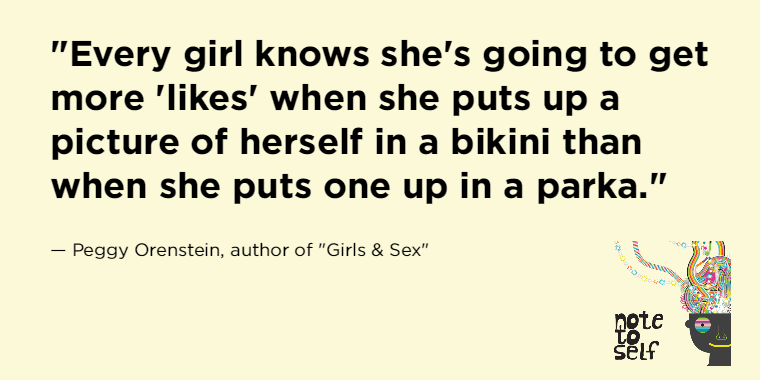 If you listen to this show a lot, you'll hear fragments of ideas we've touched on before like sex, teens and interaction in this digital world. And if you're new to the show, welcome to it! This is the kind of stuff we love talking about, so we hope you'll get in on the conversation.
And one more thing:
We are working on a very special project for July and we need your voice. Tell us about an experience as a woman trying to achieve "Work-life balance." It can be minor, major, catastrophic... anything. We're here to listen. Record your voice memo and send it to notetoself@wnyc.org. We really appreciate it.
Subscribe to Note to Self on iTunes, Stitcher, TuneIn, I Heart Radio, Pocket Casts or anywhere else using our RSS feed.