Should You Post Pictures of Your Kids Online?
This is the latest installment of "Question of Note," in which we take a listener's question — your question! — and find just the right the person (or in this case... people) to answer it. See them all here as we go along.
Got a Question of Note you'd like answered? Email notetoself@wnyc.org with a voice memo. Here's how to record one. 
There is a child among us who will live to be 150 years old. When this kid celebrates his centennial and a half, how is he going to feel about the picture you just posted of today's playground disaster? 
This week's question comes from a father whose social media profiles are covered in photos of his kid:
"I was wondering if it's right of me to just blindly post pic after pic of my 3-year-old's entire life all over social media. Should I start deleting every pic until he's old enough to give consent? Or is this just what it's like to grow up in a digital world?"

— Judd Wachstein, Atlanta, Georgia
According to the Pew Research Center, 92 percent of children in the U.S. have a digital presence by the time they turn two. But a University of Michigan poll earlier this year found that three-fourths of parents think that another parent has shared too much information about their child online.
So no matter what we do, there are some very strong opinions out there. We put three people with very different philosophies together for a conversation about ethics, photography, and the struggle of weighing future consequences in a world just can't picture yet (no pun intended).
Take a listen and see who you agree with the most:
Oh, and take our poll?
You can listen to Hillary's excellent show, The Longest Shortest Time, anywhere you get your podcasts on through their spiffy new app (which is also where many of the listener voices on this show came from).
We're also pretty in love with the Longest Shortest Time Mamas group, a Facebook community and safe space for mothers to share their *real* experience of promulgating the human race. There's one for Papas too.
And as always, subscribe to Note to Self on iTunes, Stitcher, TuneIn, I Heart Radio, or anywhere else using our RSS feed.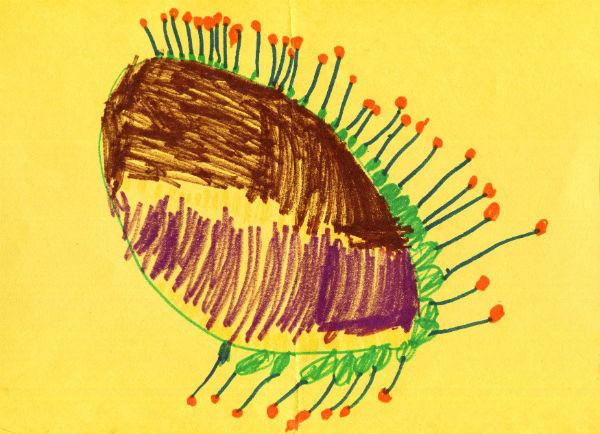 Hillary's daughter Sasha drew this picture of a birthday cake with 38 candles (really, she counted) (Courtesy of Hillary Frank)