Update: How Eating Disorders Evolved Online
Last fall, we ventured into a dark corner of the Internet where people bond over unhealthy behavior, trading tips on starving themselves. This is where sufferers of anorexia and bulimia share so-called "thinspiration" photos, framing eating disorders not as an illness, but as a lifestyle. This pro-eating disorder community has morphed and grown with the Internet, traveling from websites to Tumblrs to Pinterest. Joanna Kay, a 26-year-old who says she's "grown up" with these sites, tells us what they're like — and what makes them so hard to quit.
We're re-airing this episode with an update from Joanna, who has since gotten married and started blogging under her real name at Middle Ground Musings. She's now in grad school training to become a mental health counselor. At the same time, she says, she has relapsed, and returned to intensive outpatient treatment program. Listen to the full episode for more.
"I lost my voice for 12 years to this illness, and this is really the first time I'm actually getting to revive my voice and to talk back to my eating disorder, in a way." 

— Joanna Kay
In the months since we first aired this show, we've heard from many of you that it changed the way you think about your life and the Internet.
If you need help in real life, there are people out there. Here are some resources we've collected (and let us know if you have more suggestions):
If you have an experience you'd like to share — whether it's about eating disorders or another online community we should know about or that you'd like to hear about on our podcast — please do get in touch.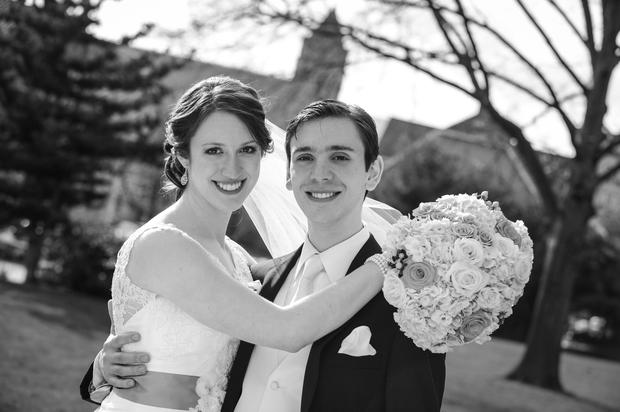 Joanna and her new husband, Matt, on their wedding day. (Carol Macdonald)
Subscribe to New Tech City on iTunes, or on Stitcher, TuneIn, I Heart Radio, or anywhere else using our RSS feed.