Your Quantified Body, Your Quantified Self
One of the fastest-growing sectors of the tech industry involves turning all of the little details about our health into quantifiable data points. Millions of users have strapped heart-rate monitoring pieces of plastic to their wrists, scanned in the calories from their frozen dinner, and squinted at charts representing everything from the quality of a night's sleep to the regularity of their menstrual cycle. And, according to a recent editorial in the Journal of the American Medical Association, almost as many have stopped wearing them within the first six months.
To the many, many people who have tried these tools – not to mention the people who want to sell them – this raises a big, open, lucrative question: What role should health trackers actually play in our lives?
On this week's episode, you'll hear from Natasha Dow Schull, author of a forthcoming book called "Keeping Track," and technology writer/early self-tracker and writer Paul Ford. Schull's research has involved spending quite a bit of time in the aisles of Best Buy, listening in on the hopeful, aspirational purchases. However – as new research begins to bear out – respondents in the long run tend to fall in two camps: people who get turned off by the idea of self-tracking and need to be convinced of its value, or those who like the idea but want better technology. In both cases, the stalwarts of this billion-dollar industry are listening very, very closely to figure out what consumers really want from this trend.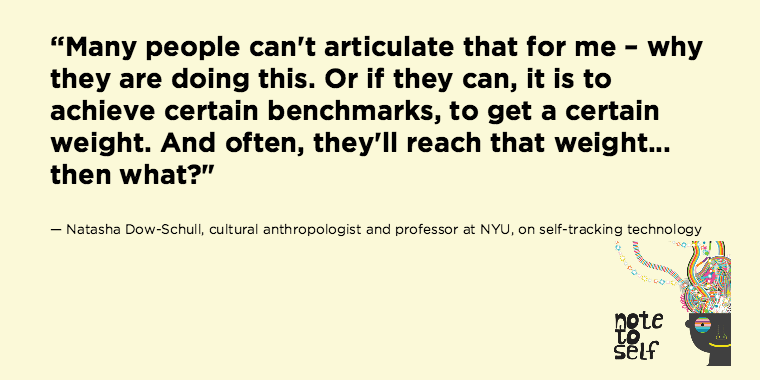 (Note to Self)
We're curious too, though for different reasons. We've spent the last few months asking a whole lot of people to speak to their experiences of quantifying themselves using technology. We wanted the story you can't tell from the big tech conferences or even hanging out in the aisles of Best Buy. So we asked our audience to weigh in (figuratively, of course) on what makes for "useful" health technology – what different sorts of health hacking have really done to their health.
The responses have been fascinating, inspiring, and heartbreaking – and we have a feeling it will be pretty insightful for the industry and everyone who studies it.
Here are some of the major themes from the more than 100 voice memos, emails, and messages you've sent:
Don't see an important point in here? Tell us on Facebook or Twitter!
SEEING IT MAKES IT REAL 
When they're tracking in the right direction, hard numbers and charts can feel like getting a good grade. For the good students out there, getting "keeping up the grades" is genuinely motivational for at least a little while.
"Starting a little over a year ago, I purchased a Microsoft band because it had more sensors than anything else on the market... It tracks my sleep, it tracks my steps, it tracks my galvantic skin response, it tracks my UV exposure, it tracks pretty much everything except my calories, which I happily do through another app. I got a WiFi connected scale. All of this data together has surprisingly benefited me, and I've lost 20 pounds in the last year. Part of this has been through concerted efforts, but part of it is just being more aware of how active I am and all of these devices motivate me, really truly motivate me, to get up and walk, to make sure I get my 10K steps a day, to improve my lifestyle, to make a slightly better choice for dinner." – Christina in Virginia
TELL ME A STORY
Many of the people who love their trackers told us they try to combine data sets into a story about what they have been doing and how far they have come. This narrative gives them a sense of what should come next in their lives, prompting decisions that bear out the healthy arc.
"I don't know if it's just the historian in me or what, but I love my data. From the morning to night I have a mood journal where I can track how I feel, what medications I've taken, how long I've slept... I track my food and points through Weight Watchers. There's an app for everything, even for fun things, like Untapped to keep track of how many craft beers I've had." – Alison from Charlotte 
I NEVER THOUGHT I CARED ABOUT WHAT OTHER PEOPLE THINK, BUT...
Not everyone wants a social experience, but some people who thought they'd hate giving friends a glimpse into their pedometers found themselves competing to great, surprising, motivational effect.
"I never thought I'd be the person walking around my kitchen island or doing laps in my bedroom because my friend Brittany is 2,000 steps ahead of me at 11 o'clock at night, but it has happened on more than one occasion." – Jennifer Bertrand from Texas
HELP ME MOTIVATE MYSELF! 
For the non-fitness inclined, the most useful tech puts the promise of what, exactly, they're hoping to achieve front and center. Most of the products on the market dive harder into stats they don't already care about.
"I'm slightly round, and I never wanna be a human stick insect. But my joints... not so much, they're not so happy with the situation. I feel like I've got to do something about it.... I'm like in buoyancy training… if I'm on a boat in the North Sea and it sinks, I have a competitive advantage for, like, 3 minutes because it's gonna take me longer to sink. I gotta watch my husband go down, I gotta watch the people I was just having drinks with on the Lido deck get circled by whatever's in the water… plucking them like grapes out of a fruit bowl... those three minutes are not gonna be high value ones. [But] I've come to this conclusion that I don't lose weight [and] I don't make better decisions because I guess I just don't want to... So I would really appreciate it if you could identify some sort of technology that would make me make better decisions... Both for exercise and for food intake. So if you could just wave your magic wand and make that happen that would be awesome." – Jennifer in Massachusetts 
ONE STEP ON MY PEDOMETER, TWO STEPS TOWARD COMPULSIVE
We heard from dozens of users who called themselves "addicted beyond the point of health," who said having so much information about their bodies at their disposal made them hyper-fixate on small changes.
"As somebody recovering from an eating disorder it completely feeds into the obsessive habits and so there almost should be a warning sign that this can lead to triggering behaviors." – Lauren in Minneapolis
TRY TO MATCH THE MESSAGE TO MY MOOD
Quite a few people said blanket "notifications" work once they're already feeling inspired, but deepen guilt or frustrations when they come at a bad time. 
"My fitness tracker vibrates to tell me I haven't moved in a long time... I don't even feel it any more. But I did notice something the other day that seems to help….always says the same thing but one day the app sent a notification at the random time during the day and it said 'we've noticed our reminders aren't helping you...so we will stop them soon...no don't stop them...I felt so guilty for letting the My Fitness people down... One app that I do use is the Headspace and I use it to establish a meditation habit. The app will send me a different mindfulness message a couple times a day and I do always pause to read and reflect on those and, I think it's because there's a variety of messages and that's what helps."
IF ONLY I DIDN'T HAVE TO ACTUALLY WEAR IT
A number of people said they were embarrassed to be seen with the visible, not-all-that-glamourous-looking pieces of plastic on their wrists – a complaint all too familiar to "wearable" designers who hoped the Apple Watch would come along and answer that design question once and for all. 
"Three years into [using] all of these trackers, I read the book 'The Life Changing Magic of Tidying Up' by Marie Kondo. This book asks you to think about one specific question when you're deciding to keep an item... "does this spark joy?" ... One day while putting on my FitBit, I thought 'does this spark joy?' and the answer was 'no'. ... It's not even a beautiful item that I'm putting on my body. I might as well wear a toaster on my arm.. So fast forward 6 months and I have no ugly device or screen on my wrist. I've got no lights, no buzzes, no numbers and then yesterday at the doctors, my doctor told me that my blood pressure was the lowest it's ever been, my favorite jeans fit and I'm happier." – Allie Pilmer from Alameda
Subscribe to Note to Self on iTunes, Stitcher, TuneIn, I Heart Radio, Pocket Casts or anywhere else using our RSS feed.