I'd Rather Have a Living Son Than a Dead Daughter
Earlier this year, North Carolina passed HB2, the so-called "bathroom bill." The law bans anyone from using a public restroom that doesn't match up with his/her biological sex. HB2 put the state in the middle of a national fight about gender. But North Carolina is also home to one of the few gender clinics for kids in the South, at Duke University's Children's Hospital.
This week, we spend a day in that gender clinic, the only one in North Carolina. We wanted to know how a clinic like this one operates in this political climate. And we wanted to find out how these patients are coping.
Dr. Deanna Adkins, a pediatric endocrinologist, started the clinic a year ago. Over the course of our day, we met three of her very different patients. Drew Adams is a 15-year-old trans man who came with his mom, Erica, all the way from Jacksonville, Florida. On the drive up, Drew wore a T-shirt with "This is What Trans Looks Like" printed on it. He told us he decided to change out of it before he stopped for a bathroom break in North Carolina; he used the men's room. When Dr. Adkins told Drew that not only would he get a prescription for testosterone, but that he could give himself his first shot that very day, Drew stood up and cheered.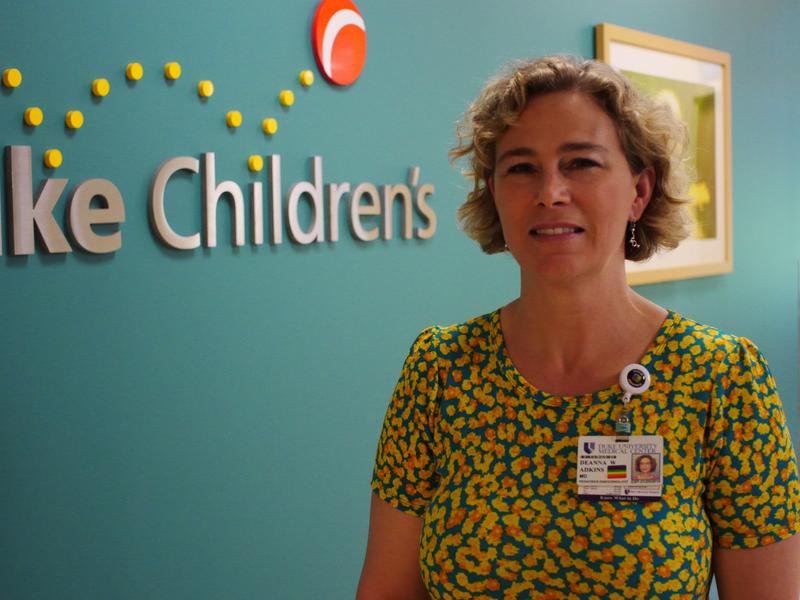 Dr. Deanna Adkins, the pediatric endocrinologist in charge of the Duke Child and Adolescent Gender Care Clinic (Mary Harris)
We also shadowed Dr. Adkins's appointment with Jaye, an 18-year-old African-American trans woman. Jaye's experience has been very different from Drew's; her family has had a harder time accepting her transition. She also worries a lot about her safety, especially in North Carolina, and she can tick off the names of a number of trans women of color who have been killed over the last few years. But, like Drew, Jaye was thrilled when Dr. Adkins handed her a prescription for estrogen. She planned to pick it up that day.
At the end of the day, we met Dr. Adkins's last patient, Martin, and his mom, Karen (we decided to use pseudonyms for them both). Martin was born a girl and came out as trans a year and a half ago, after a long struggle with depression and anxiety. At first, his mom worried that this was one more expression of Martin's unhappiness. But Martin's transition has completely changed his outlook. His mom said he used to be withdrawn; when his depression was at its lowest point, he started cutting himself and had to be hospitalized. Now, she says, "It's more like we've become friends again and we've reconnected. I think it's because he realizes that I accept him for who he is and I'm going to support him."
This fall, Martin plans to present as a boy when he returns to school in Raleigh. When we asked him which bathroom he'll use, he told us it will depend how brave he's feeling.