The Science of Turning Her On
The only sexual education Nicole Prause had growing up in a small town in Texas was how to practice abstinence.
Then she went to college at Indiana University and started working at a sex laboratory at the famed Kinsey Institute. But the subject was still taboo at home. Prause would start talking about her job and her stepmom would say, "Not at the dinner table."
That hush-hush attitude only served to convince the sex researcher and neuroscientist that women learn about sexuality the wrong way – with an emphasis on the risk of pregnancy or STIs, never on sexual pleasure or desire.
When a "female Viagra", called Addyi, was introduced last year to rev up women's sex drives, it was received with far less enthusiasm than its male counterpart. Mainly it's because the drug isn't all that effective: it only helped 10 percent more people than the placebo. The drug also comes with caveats: like not being able to drink alcohol or combine it with other medication.
Addyi wasn't the first attempt to address female libido through medication, and it probably won't be the last. But Prause is more interested in an element of desire that the drugs can overlook.
"If you take a Viagra and your partner is still very unattractive to you, or being mean to you, the Viagra will not be effective," Prause says.
Her mission is not to create a new, more effective drug, but to understand the mechanism of desire. She's focusing a lot on stimulating the brain to figure out what makes people want to have pleasurable sex.
Prause has used several tools to dissect this misunderstood science – from transcranial magnetic stimulation, a much milder shock therapy, to devices like an anal pressure gauge that she designed herself.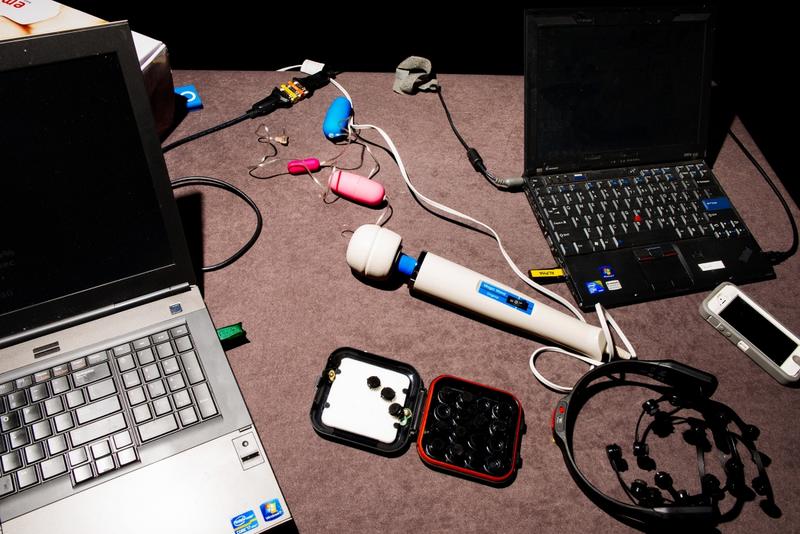 Nicole Prause uses devices to stimulate sexual pleasure in her studies. (courtesy of California Sunday)
And while the scientist is focused on her laboratory, Liberos, she says the conversation around female sexuality needs to shift, especially in heterosexual relationships. Women often sacrifice their own desire to cater to, or "keep up", with their partners. And men are not on the same wave length.
"To continually kind of deny that we have an interest in sexuality and make those demands…you really need to slow down [and communicate]," Prause said. "And then we will have better partners."