This story was originally reported in 2016. 
Jessica Tansey was driving around Chicago the weekend after Thanksgiving when she noticed a sudden addition to her neighborhood.
"I passed a bunch of little Christmas tree pop-ups," she recalls, adding, "And I just wondered who all the people are behind it and what their stories are."
So she turned to Curious City writing: "Pop-up Christmas tree sellers are seemingly in the corner of every Chicago parking lot. What's a week in the life? A year in the life? The return on investment?"
We want to wrap up the answer before the holidays end, so we're skipping the "week/year in the life" part to focus on the heart of it: Who are the people that run these lots and how do they run their businesses?
We learn there're lots of ways to keep a tree lot business humming, but here's what they have in common: The holiday season goes by quickly, so they have to hustle.
For some, it's all in the family
Let's start with one of Chicago's oldest and biggest tree lot operations — fittingly called Chicago Christmas Tree Lots. It's run by Gregg Arneson, who works construction in northern Wisconsin for most of the year. But for about a half century, he's spent the holiday season in Chicago selling trees.
Arneson says his grandfather was one of the city's earliest tree retailers, cutting down wild trees in the woods and sending them to Chicago by schooner. He was part of a trade that made Christmas trees — a traditional German custom — both accessible and popular in Chicago at turn of the 20th century. Many of the first "lots" were actually ships docked around the Clark Street bridge.  
The history of popularizing the "Tannenbaum" tradition in the city (and the danger of it) is recounted each year in productions of a musical called "The Christmas Schooner."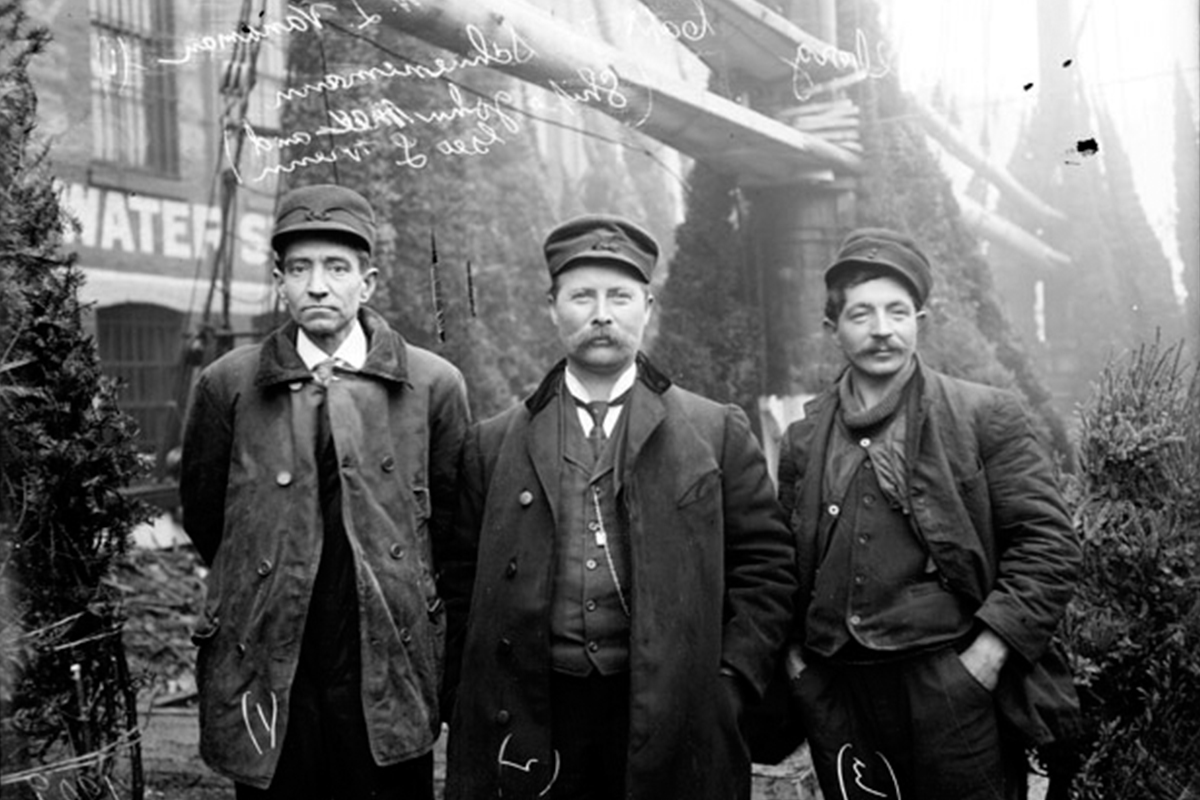 Arneson says later generations of his family continued the trade, but made some changes. Instead of cutting down wild trees, they started tree farms, and the schooners were replaced by trains and trucks. These days, Arneson brings down trees from his own farm and others nearby. But with the rise of big-box stores, that model is fading.
"Years ago — I'd say until about 25 years ago — there were more individual tree lots with people from up north bringing their products down to sell them," he says.
Nowadays, Arneson says, huge commercial competitors from across the country ship trees to big-box stores where trees are often less vetted and cheaper. Home Depot outlets in Chicago, for example, price 5-foot Scotch pines for $19. They retail 6-foot Fraser firs for $70. The stores offer spruce and fir varieties with price-points in between, too.
But, Arneson says, he's held in there. In recent years, he's run six to 10 lots in various Chicago locations he rents across the North Side. He sells a variety of fresh Midwest pines, spruces and firs for about $40 to $90 for average size trees. He credits his survival to clients who are looking for something beyond the big-box experience.
"My customer tends to be more picky," he says. "They'll come in and spend an hour, sometimes two hours, walking around looking for the perfect tree. And that's the difference, basically."
Each year, Arneson pulls off his own version of the holiday hustle, spending long days driving between lots, stocking trees and helping with night deliveries. He hires temporary workers to manage the lots, and this season they even include some Jamaican fireman buddies.
"They bundle up and we got them some gear, and so far they like it," he says.
Mostly, though, Arneson says he hires construction workers and others Wisconsinites looking for seasonal work.